EVENT CANCELLED – due to the RED light setting this event is unfortunately cancelled, next week we're announcing a revised digital Writers programme. For more information on refunds, click here.
Who is Simon Bridges? Former leader of the National Party; lawyer; the youngest of six kids; member for Tauranga; father; frustrated citizen; outsider? In his memoir, National Identity: Confessions of an Outsider, Simon Bridges gives Aotearoa an insight into what made him: his relationship with his father, reactions to his Westie accent, and his sense of himself as an introvert who felt different to the kind of man that our political world expects. The memoir also offers a take on Aotearoa's problems and why we have them. Join Simon, with writer and commentator Emma Espiner, to delve into the motivations of this book, and how it feels to have confessions out in the world.
He uri nō Ngāti Maniapoto, te rangatira ō mua o te pāti Nāhinara, he rōia, he pāpā, he tāngata. Ko Simon Bridges tēnei me tāna tuhinga me Confessions of an Outsider. E kōrero ana mō ngā āhuatanga I Simon ai a Simon, ngā mea I āta poipoi I a ia, e tū pakari tonu nei.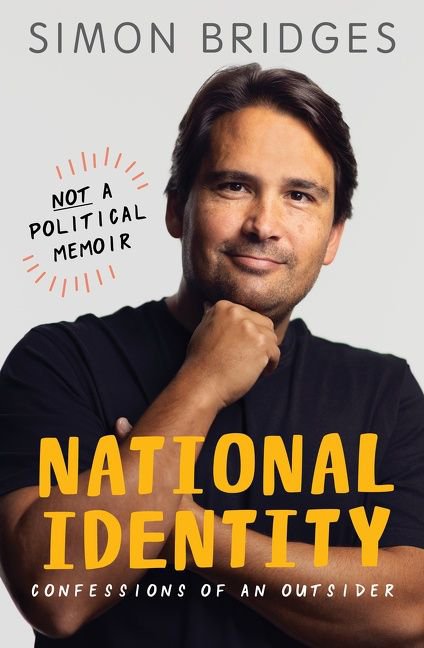 Simon Bridges
Aotearoa / New Zealand
Simon Bridges is a former lawyer and a sitting Member of Parliament. His father was a Baptist minister of Māori (Ngāti Maniapoto) and Pākehā descent. His mother was a primary school teacher, of proud Yorkshire heritage. After graduating from Auckland University, Bridges received a Bachelor of Civil Law from Oxford. Bridges also studied at the London School of Economics and interned at the British House of Commons. In 2008 he was elected as the MP for Tauranga.
Bridges served as a Minister in government from 2012 to 2017 under Prime Ministers John Key and Bill English, before serving as the leader of the National Party and Leader of the Opposition between 2018 and 2020. He was the first major political party leader in New Zealand with Māori ancestry. He lives in Tauranga with his wife, Natalie, and their three children.
Emma Espiner
Aotearoa / New Zealand
Emma Espiner (Ngāti Tukorehe, Ngāti Porou) is a doctor at Middlemore Hospital. Emma hosts the RNZ podcast on Māori health equity, Getting Better which won best podcast at the Voyager media awards in 2021. She won Voyager Opinion Writer of the Year in 2020. Emma's writing has been published at The Spinoff, Newsroom, Stuff, The Guardian, and in academic and literary journals.
---
$19
---
Wheelchair accessible
---
---