"They tore unborn babies out of bellies, took what we were intended to be, our children before they were children, babies before they were babies."

Tommy Orange's beautiful, devastating debut novel follows the lives of Indigenous Americans in the lead up to a powwow. The energy built through the cast of characters builds until the book explodes the question of how to tell the history of an entire people. There There asks one of the most complex questions of our time: what does it mean to be indigenous? Tommy speaks about the impact of his acclaimed first novel on himself and his community.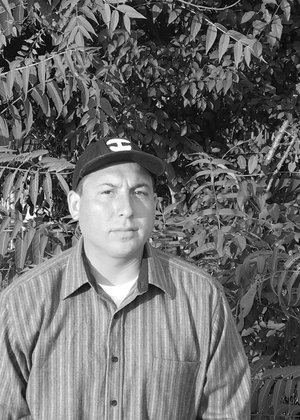 Tommy Orange
United States
Writer
Tommy Orange is a recent graduate from the MFA program at the Institute of American Indian Arts. Tommy was born and raised in Oakland, California. He is an enrolled member of the Cheyenne and Arapaho Tribes of Oklahoma. He currently lives in California.
His first novel, There There was published by Alfred A. Knopf in June 2018 and rights have been sold in Brazil, China, Czechoslovakia, Denmark, France, Germany, Holland, Hungary, Israel, Italy, Korea, Poland, Romania, Serbia, Spain, Taiwan, Turkey, the UK and Sweden. It was an instant New York Times bestseller and is under option to HBO as a TV series.
There There won the 2018 Center for Fiction First Novel Prize and the 2019 American Book Award. It was a Finalist for the Pulitzer Prize and was shortlisted for the Carnegie Medal for Excellence in Fiction 2019, and the Aspen Words Literary Prize. It also won the John Leonard Award for Best First Book, the Anisfield-Wolf Fiction Prize 2019, and the Indie Choice Award for Best Adult Debut. There There was longlisted for the National Book Award 2018 and for the LA Times Art Seidenbaum Award for First Fiction, and nominated for the NCIBA Golden Poppy in Fiction, and it was shortlisted for the Rathbones Folio Prize in the UK.
---
$29
Wheelchair accessible
---
Indigenous
International
Fiction
Writers
Finding solutions with a Te Ao Māori framework

Writing characters to evoke empathy

Examining prejudice and the refugee experience
Lip-smacking Popcorn Chicken and Beverage

Fri 21 Feb – Sun 15 Mar

High note on the rooftop

2pm - late

Sociable Dining

Monday – Friday 11am – late and 10am to late weekends