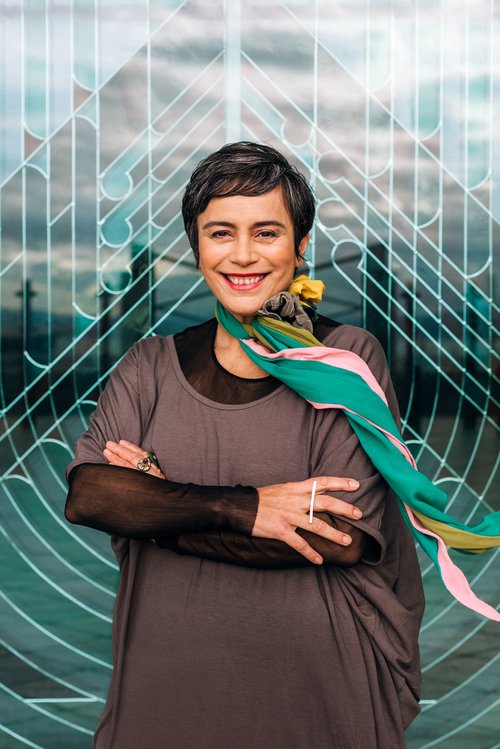 ARTIST IN FOCUS
MNZM
She masterfully creates works of beauty loaded with meaning, and examines how identity and history are represented, exploring concepts of place and community.
Lisa Reihana is our 2022 Artist in Focus and is bringing a free series of her most celebrated pieces alongside new works to the Wellington region over the Festival period. Embrace this opportunity to delve deep into the world of one of Aotearoa's artistic treasures.
Article Magazine
Lesa MacLeod-Whiting is an award-winning Wellington based comedian, writer, improviser and one of the brains behind the popular Shut Up and Dance classes. Lesa took time out from her busy schedule of gigs and rehearsing her upcoming Fringe show, Sealed Section, to have a coffee and a chat with us this week. Her coffee of choice? A cold brew with oat milk and maple syrup.

Sherilee Kahui is a member of Maranga Mai which has recently released a five-part series of radio plays by wāhine Māori and va'ine Pasifika writers.

This series features new writing from Tina McNicholas, Sandra Tisam, Sherilee Kahui, Teherenui Koteka and Stevie Greeks with full audio production, brought to life by a cast of over 20 established and emerging actors. Directed by Māori artist and theatremaker, and 2022 Arts Foundation NZ Arts Laureate Hone Kouka, the five stories transport listeners into a variety of different worlds.

Wellington-based ceramic artist, Pip Woods is a finalist in the 2022 Portage Ceramic Awards. Pip's work in the finals is called Siblings and explores the physical and emotional characteristics which unite and divide, the alliances and rivalries and the shared experiences that characterise relationships between brothers and sisters. The work will be shown alongside the 30 finalists at Titirangi's Te Uru Gallery from 26 November 2022 - 5 March 2023.