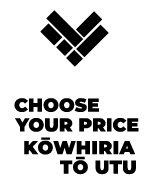 We believe that art is vital to personal and community wellbeing, and these benefits should be available to all. As part of our mission to make art more accessible to more New Zealanders we are piloting a new values-driven ticketing platform for 2024 called Choose Your Price I Kōwhirihia Tō Utu for a range of performances across the Festival from Wellington to Ōtaki.
Choose Your Price empowers you to select your ticket price based on what you can afford, with no booking fees.
E whakapono ana mātou, he wāhanga nui tō ngā toi ki te hauora o te tangata me te hapori, ā, me wātea ki te katoa. E wātea ai ki ngā tāngata o Nui Tireni, e whakahaerehia ana e mātou tētehi ara hoko tīkiti mō te tau 2024, e taea ai e te marea, te utu o ā rātou tīkiti te kōwhiri, mō ētehi o ngā whakaaturanga a te whetiwara, mai i Pōneke ki Ōtaki. Kōwhirhia tō utu, te utu e taea ana e koe.