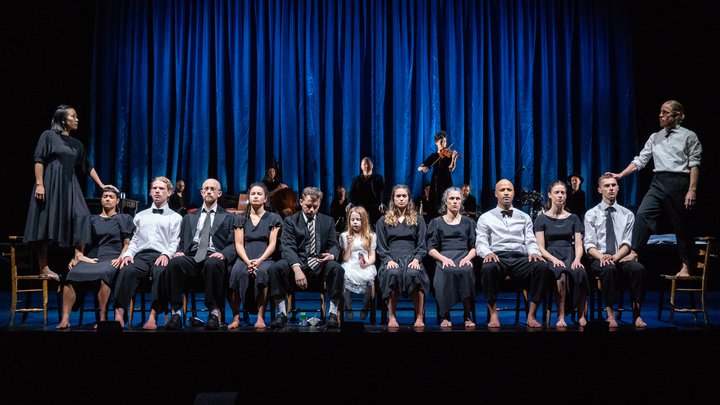 Image: Matt Grace
In our 34-year history we have never faced anything quite like this together.
Covid-19 has had such a significant impact on the world, our society, our events and arts industry workers, our artists, our partners and our audiences.
Our thoughts and aroha are with the healthcare professionals on the front line, our essential workers and everyone who has been directly affected by Covid-19.
Today there are thousands of artists and creative workers whose employment has been abruptly ended and whose future looks uncertain and frightening. We are working on how we can be there in support of those people who are the backbone and the heart of this Festival and the wider arts community. 
We also know that some of our partners' and supporters' businesses and livelihoods have been affected, we are thinking of you too. Whether you are a Patron, Culture Club supporter, audience member, many people are hurting because of Covid-19 and we acknowledge you all.
We are so very grateful we were able to gather together in Wellington in February and March and share some beautiful arts experiences at the 2020 New Zealand Festival of the Arts with you.
We know just how fortunate we were to deliver 95% of the 2020 Festival and again we truly appreciate the support from our artists, supporters and audiences who enabled this to happen despite the brewing global pandemic.
The 2020 Festival was an extraordinary meeting of artists, audiences, hearts and minds. Our artists and writers offered us a time to hope and a time to dream; they brought us together as a community and challenged us to feel, think, act and speak. The feedback from artists about their time here has been exceptional. We connected Wellington with the world and sparked important conversations. What could be more important in the current landscape?
We are so delighted that more than 150,000 people were able to share this Festival with us over the three weeks. For those who were there, we sincerely hope that your experiences may help to support and sustain you through this difficult time. As we observe essential social distancing over the coming weeks we will digitally connect with you all again and share some of the Festival's memorable moments over the years, as well as making sure you know about great arts experiences online from across the world and Aotearoa. If you're not already aware, our Facebook page is where we are sharing a lot of this content.
As a team, we have been using this lock-down period to reflect, learn and connect. We'll be in touch soon to invite you to give your own reflections on the Festival and we're looking forward to engaging those of you who would like to take part in some further conversations about audience needs as we move into a post-Covid future.
Since 1986 the Festival has been honoured to provide a strong and visible platform for artists from a diversity of backgrounds and cultures to tell their stories. As we face this global trauma together, the human connection and wellbeing benefits art brings to people, feels more important than ever before.
We must recognise that financially, the future will not be straightforward. Despite our pioneering legacy over three decades, we are a relatively small charitable trust and along with many of our industry peers, a significant amount of our future funding is now at risk.
As an organisation we are working hard to mitigate the impact of this crisis on our artists, supporters and our audiences. We are fighting to ensure that we can keep our small team of staff together over the next 12 months as we move into our essential planning phase, and be here to support the sector and the community as much as we can.
We had staffed up expecting to deliver a range of other events in the coming months: Wellington Jazz Festival in June, Second Unit in July and Lexus Song Quest in August, all of which are now paused or postponed. Without the anticipated income from these events we are faced with a financial challenge to cover staff costs and overheads, which we are mitigating by applying for the Wage Subsidy and our small permanent team, including ourselves, have all decided in the first instance to drop down to four days paid per week for up to six months.
We are also working to quickly provide early investment in new artistic work to be created by New Zealand artists for the next Festival, giving some of those who have had their other employment opportunities disappear some financial security and time to create new work for you to experience in 2022.
If you would like to play a role in supporting the Festival's sustainability, New Zealand artists and arts workers in this extraordinarily challenging time, we welcome your involvement. For context, $10-$15,000 would enable us to commission a New Zealand company or artists to develop the concept stage of a new work for the 2022 Festival part-time over a period of 2-3 months. This would in turn provide much needed income, security and hope for the company's artists. New Zealand artists, the very heart of our Festival, are the focus of our fundraising strategy right now and we urge those of you who have the means, to consider supporting us. Please read on and find out more in the FAQs below.
To our strongest ambassadors, namely our Festival Patrons, Culture Club supporters, Partners and Funders – thank you from the bottom of our hearts for your continued support through this difficult time. Your contribution is vital for this work and we cannot thank you enough.
Please look after each other, stay well and do reach out to us – we love to hear from you.
We look forward to staying virtually connected and of course, being back together soon when it's safe to do so.
Arohanui,
Meg Williams and Marnie Karmelita
Executive Director and Creative Director
FAQs
Q: WHAT CAN I DO TO HELP?
A: First of all, please do follow the health advice and guidelines from the Ministry of Health to keep yourselves and vulnerable members of our community safe during this difficult time.
And secondly, please consider making a donation to help us to ensure a bright future for the Festival and our creative communities. As a charitable trust, a major focus is supporting New Zealand artists, namely through commissions. We acknowledge the impact that Covid-19 has, and will continue to have, on the artistic community with an unexpected loss of income, which will continue to grow as cultural organisations worldwide are affected by shutdowns and new regulations. We urge those with the resource to consider making a tax-deductible contribution in support of the New Zealand Festival of the Arts community. Please complete this form or contact Amy Dewes to find out more about how you can help.
Q: I'D LIKE TO SUPPORT FINANCIALLY AND BECOME MORE CONNECTED TO THE FESTIVAL. HOW DO I DO THAT?
A: We would love to welcome you into our Festival whānau (family) as a Culture Club supporter (our monthly giving programme, from just $5 a month) or into our closest community of donors as a Festival Patron. Find out more on our website or contact Amy Dewes. We'd love to chat to you in person about your motivations to support the arts and the best way for you to do so.
Q: WHAT ARE THE DATES FOR THE NEXT FESTIVAL?
A: The 2022 Festival will take place from 25 February – 20 March.