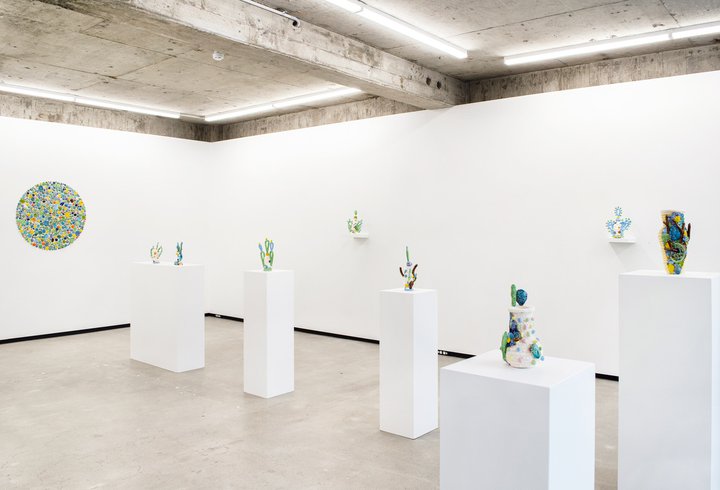 Jhana Millers Gallery, Glenn Barkley, Higher beings command mystic truths, exhibition install.
Fired Up Standout Moments
All our Dealer Galleries held their own Exhibitions. The collective approach to the focus on ceramics - the collegiality between all the spaces. This is the first time Wellington dealers had worked together, it was fun and there was an electric buzz in the air. Visitors, locals and out of towners were enthusiastic, impressed and happy.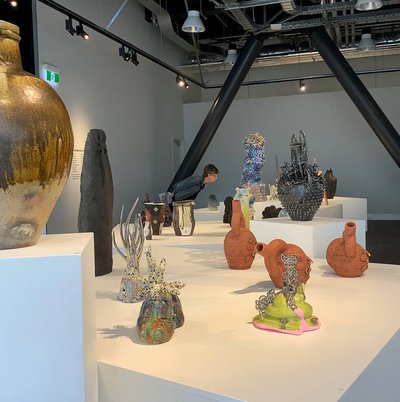 "An incredible gathering of people and pieces of incredible clay work."
- Festival attendee
Saturday Night Art Night. All galleries were open Saturday evening till 11pm allowing people to really enjoy the art scene by night - wandering around the city, meeting friends for drinks and food, then seeing and getting introduced to artists and viewing exhibitions.
The Street Dinner. On Sunday 23rd we took to the streets placing tables outside for 60 people with delicious food provided by Rita. The food, the evening light and the conversation, made for an amazing evening of bonhomie.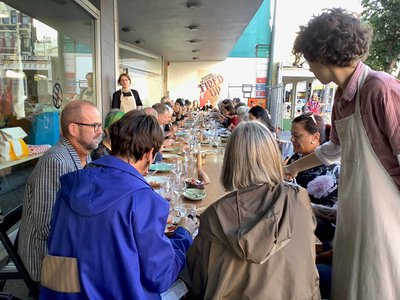 "It was a really enjoyable and memorable evening. The food was sensational."
- Festival attendee
And finally, at our Symposium we had over 120 passionate attendees made up of artists and arts professionals from New Zealand, Australia and the USA who all came together to discuss, chat and learn from each other. It was truly inspirational.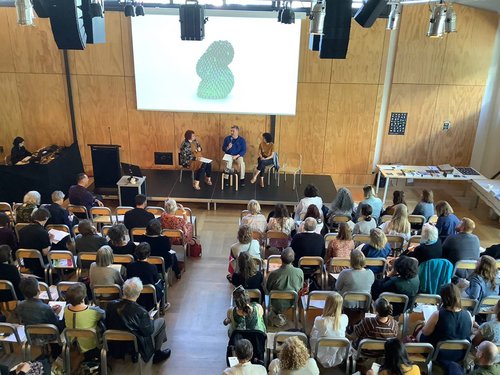 An Explosion of Creativity Under Lockdown
Fired Up saw a collective spirit between the Wellington Visual Arts Community. This spirit and success of the event carried us through into lockdown and gave us lots of time to reflect on what we do next and how we can do it again.
With all of the venues closed due to COVID-19 people had to move their practice and exhibitions online. This prompted some of the galleries to improve their digital/virtual presence and create other digital ways of viewing and experiencing artworks.
Lockdown seemed to increase people's interest in watching, seeing and viewing artworks. People had time to look at websites and social media and think about the art they could have in their homes. Lockdown has also meant that people are spending their money on other things instead of travel.
It was interesting to see what and how all the public and dealer galleries were moving their work into the digital space. A lot of the large public galleries and institutions have opened their doors and stockroom virtually – making their collections more accessible for people to browse from their homes.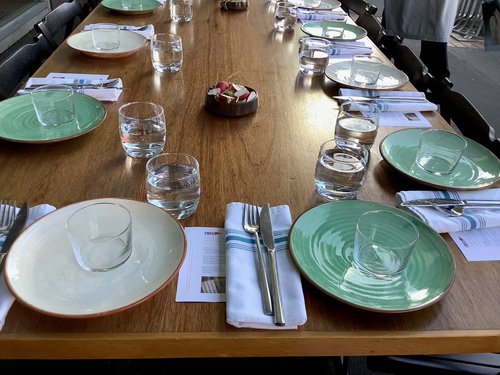 What is next for Fired Up?
Fired Up: Festival of Ceramics was a one-off event used as a pilot for future collective Wellington Visual Art Gallery events associated with the New Zealand Festival of the Arts. It was a huge success and we are meeting with all the dealers again soon to start working soon on an event for 2022. Watch this space!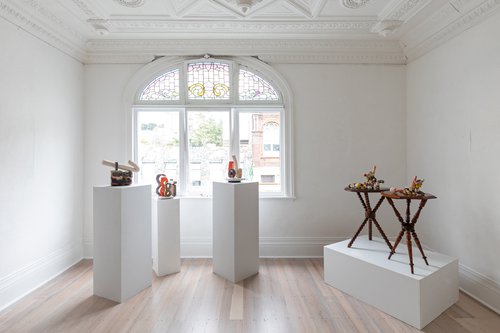 McLeavey Gallery, Professor Tick and Company, exhibition install.