28 February 2023
With Wellington Opera's production of Donizetti's Lucia di Lammermoor opening in mid-March, we spoke to director Sara Brodie and Maestro Tobias Ringborg about the production, and to Wellington Opera's Artistic Director Matthew Ross about the accessibility of opera.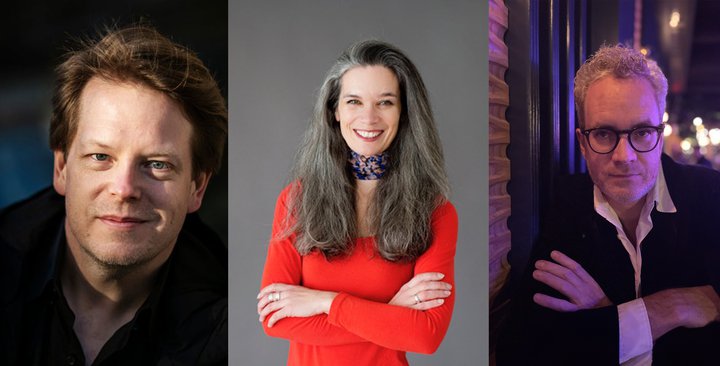 Tobias Ringborg, Sara Brodie, Matthew Ross
What can an audience expect from Lucia di Lammermoor?
Sara Brodie:
The opera encapsulates all that is gothic: brooding landscapes, the supernatural, a family feud, and lovers who meet in secret. Donizetti's first chords evoke unease and mystery. For this production we are embracing the gothic. The story can also be described as a gothic horror featuring a mad killer bride. Lucia's mad scene, with intricate, stratospheric cadenzas, is the opera's claim to fame. However, although the production team have had many conversations about blood, for me the focus is on the violence of those who act upon Lucia to lead her to such a point. Lucia's psychological arc is sensitively written. The success of the famous mad scene is the fragility of it. The effect is that we feel her vulnerability rather than watch a knife wielding murderess. Her story is one of resistance beaten down by many means.
Expect brilliant singing by athlete performers who have the acting chops to grab hold of your heart strings and draw you in.
This is impassioned melodramatic storytelling which sweeps you along like a brisk southerly.
Tobias Ringborg:
This is "bel canto" opera in its prime, in which the vocal parts have the highest priority. Fireworks, gorgeous pianissimo moments, catchy tunes - everything is there. Plus dramatically an extremely effective story, with the eternal fight between honour and love.
Lucia di Lammermoor is an Italian opera based on a Scottish book, but this production is set in the South Island of Aotearoa. Did you have to make any changes to make the opera fit into this location?
Sara Brodie:
A land feud, religious differences, and Scottish politics take up a good portion of Walter Scott's novel The Bride of Lammermoor. So, setting the action on the other side of the globe from Scotland and a century later than 1769 was not so much about making the opera fit but enhancing the gravitas for an audience watching it here in 2023.
New Zealanders know about land feuds, and more acutely, some know what the fight is like to get it back.
We haven't made any changes to the story or libretto. There are Scots traditions, and there are swords. Traditionalists seeking out the differences would, I think, search to find them. The design has been inspired by images from the 1800s and paintings of our landscapes. In the surtitles instead of leaving for "France" Edgardo leaves for "foreign shores". In another I have changed it to read "The Queen is dead, and the King now takes the throne" rather than the other way round - purely because it is more relevant to our recent history.
In the south of Aotearoa the settlers were predominantly Scottish Protestant. They re-labelled part of the whenua in Otago, the Lammermoor Range. Over it sits a strange and ever present cloud formation. There are crags abounding. There is even a Lammermoor whiskey distillery. The original name of the range is Te Papanui.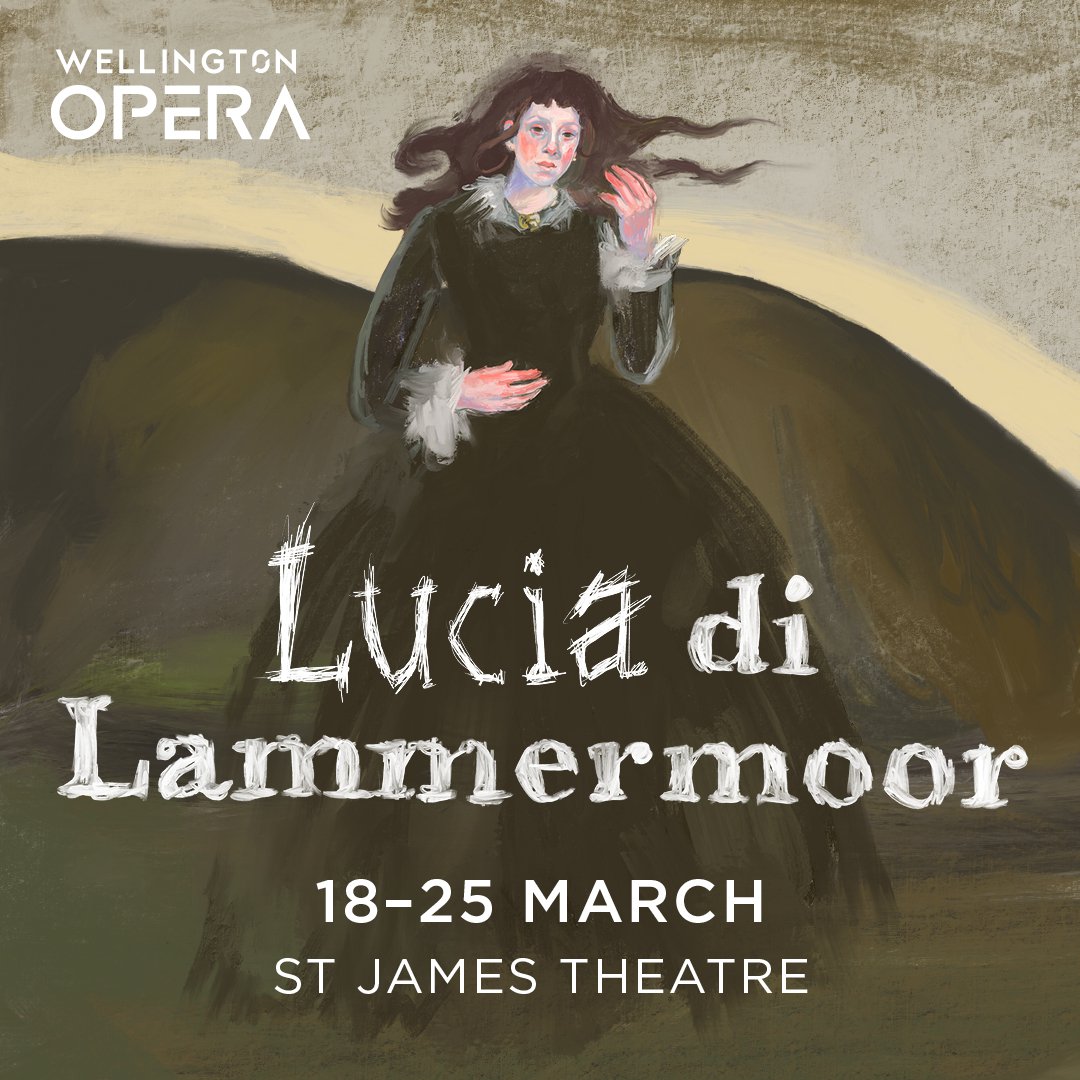 Can you tell us about the rehearsal process? Have there been any challenges you've faced?
Tobias:
We have just started rehearsals, so no particular challenges as of yet. Some singers have been ill and therefore arrived late, but after the pandemic we're all so used to that situation! Otherwise, it's striking that opera rehearsals tend to look more or less the same wherever you are in the world - the process is the same, which of course is a comfortable feeling for a travelling artist such as myself!

With multiple recordings of artists performing the same work available, how do you work with the cast to create their own unique character interpretations and vocal performances?
Tobias:
This is a very interesting question, because for me there's a fine balance between listening to recordings for reference and inspiration, and just copying the recorded interpretation. The recordings that have been preserved for eternity over the last century are a god-given gift to humanity - that we can listen to Caruso, Horowitz, Birgit Nilsson etc - and there's obviously a tremendous amount to learn, as long as we listen to them for the right reasons. We do need to keep our own personalities and artistic views intact. Therefore, personally I'm careful with listening to recordings of the piece I'm working on at the moment. Probably also because then I feel that I'm not as good as what I hear on the recording...
Opera is often regarded as something difficult to access for a variety of different reasons including language, price and unfamiliarity with the form. What is Wellington Opera doing to make opera more accessible?
Matthew:
Accessibility is incredibly important to Wellington Opera.
We're excited to be further developing our programme for students and young people this year. We'll have even more schools' groups from across the lower North Island at Dress Rehearsal and performances.
We have a media team creating Making Lucia - micro social media of the production journey, covering from rehearsal room to the theatre - designed to provide insight and to deepen the school-aged audience's understanding of the process of creating opera and the perspectives of those involved in making it happen. These high quality digital resources will allow students - and adults - to prepare and explore the artform within a familiar and comfortable environment.
Once students are exposed to opera they naturally respond to the drama and excitement. A highlight from our last season was a school principal that wrote: "They loved it. You have made them life-long lovers of opera."
Wellington Opera is thrilled to be hosting students from Project Prima Volta in Hawkes Bay, who were involved in the Festival Opera production of Mozart's Magic Flute that was recently cancelled at the very last minute due to Cyclone Gabrielle. We are so pleased they can attend a full opera performance in such a purpose-built opera theatre as the St James Theatre.
For pricing, Wellington Opera provides a wide range of options starting from $50 for adults, and with student tickets at $20 at all performances.
We're also creating opportunities for young people to get their start in opera as a career. We have seven students from Te Kōkī | New Zealand School of Music voice programme singing in the chorus. We also have recent NZSM graduates in chorus and principal cover roles. Recent graduate of Te Kura Toi Whakaari ō Aotearoa | The New Zealand National Drama School, Waitahi Aniwaniwa McGee is Assistant Director for this season as the recipient of the Peter Lees Jeffries Memorial Scholarship from the Dame Malvina Major Foundation.
For audiences, understanding Lucia should be as easy as watching a great French film with subtitles on screen. The season will be sung in Donizetti's Italian with surtitles in English projected on screens above the stage. The printed programme also has the synopsis - the story - for audiences along with Director Sara Brodie's notes about the setting of this production being in lower South Island of Aotearoa New Zealand.
Sara Brodie is a New Zealand director and choreographer, and NZ Arts Foundation Laureate. She is currently the Programme Leader at the New Zealand Academy of Singing and Dramatic Art.
She has directed the opera premieres of: The Bone Feeder (Auckland Arts Festival/New Zealand Opera), Hohēpa (New Zealand Opera/Aotearoa New Zealand Festival of the Arts), Iris Dreaming, (Grimebourne Festival), L'Oca del Cairo (Days Bay Opera, NZ), Kia Ora Khalid (Capital E National Theatre for Children, NZ) and Gao Shan Lui Shui (High Mountain Flowing Water) which has toured China and Australasia. Opera productions include: Aindamar (Aotearoa New Zealand Festival of the Arts), Nixon In China (Auckland Arts Festival), Don Giovanni, Die Zauberflöte (New Zealand Opera), Opera Highlights tour for Scottish Opera, Hotspur/Pierrot Lunaire for FormidAbility at the Grimebourne Festival and most recently Lucia di Lammermoor for Wellington Opera.
Choreographic work has included Fault Lines for the Leshan Song and Dance Company of Sichuan, China for the Melbourne and Christchurch Arts Festivals' which toured internationally. From 2008 - 2012 she was the Artistic Director of Stage Left Company, which focused on interdisciplinary works including The Kreutzer and North/South. For Auckland Theatre Company, she directed and choreographed The Curious Incident of the Dog in the Night-time and premiere of Under The Mountain.
Tobias Ringborg is equally at home on the podium as a conductor and violinist, as well as in the opera house. His career started in 1994 when he, as a violinist, won the prestigious Swedish Soloist Prize. The same year he graduated with the highest honours from the Royal College of Music in Stockholm, and went on to study at the Juilliard School in New York, graduating in 1996. More...
Lucia di Lammermoor will be performed at Wellington's St James Theatre 18 - 25 March. Tickets can be purchased here.