13 March 2023
Featuring some of Aotearoa's hottest artists, the Tūtira Mai - Cyclone Gabrielle Relief Concert was born to support whānau, hapū, iwi and hāpori from the devastating effects of Cyclone Gabrielle. The community have all been affected many are still isolated without power, communications, clean water and basic resources. Many have lost their homes, marae, kura, livelihood and some their lives. The restoration has begun but it will take years to recover. The proceeds raised this night will be given to Ngāti Kahungungu Iwi Incorporated to distribute throughout the Hawke's Bay, Wairoa, Wairarapa and East Coast affected regions.


We spoke to Toni Huata and Kirsten Te Rito about the concert on and what else people can do to help.

Tūtira Mai will be held at Pipitea Marae from 5pm - 8pm on Sunday 19 March. You can purchase tickets here.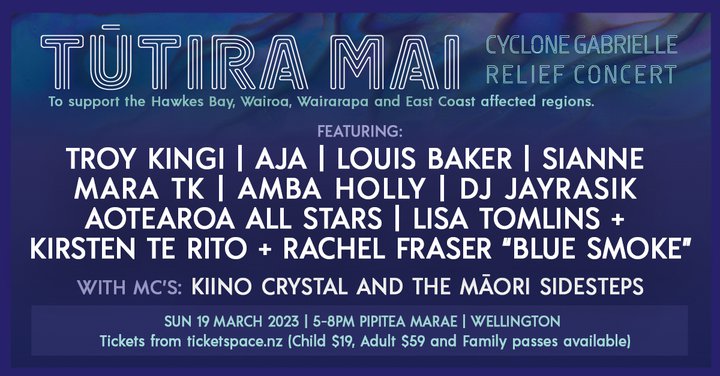 What can audiences expect from Tūtira Mai?
Kirsten: The audience will experience a beautiful and heart-warming evening where everyone in attendance - the artists, musicians, organising team, tech crew and audience - will come together to raise funds for those severely affected by Cyclone Gabrielle. It's going to be a very special event and you will leave feeling like you were part of something amazing. The musicians and bands are preparing extra special performances for this event.
Toni: Tūtira Mai - Standing together, all iwi, all nations within unity and mana. This title and meaning speaks to the kaupapa that has brought everyone together in unity, within the spirit of aroha and giving. The concert is all about giving and a desire to support and relieve those that have been devastated by Cyclone Gabrielle. Everyone has been affected and the night will be a stunning array of talent and artistry, all embraced by the generosity of manaakitanga and whanaungatanga. Already this production has been a massive effort of collaboration and I feel fortunate to be one of many contributing to this kaupapa. I'm certain that the audience will feel the same on the night and within this very special, beautiful experience.
You've gathered an incredible group of musicians for this event. How hard was it to pull them all together?
Kirsten: It was very easy to pull together our line-up! These artists are all very generous souls and they all said yes straight away.
Toni: A lot of these artists are friends and they were more than happy to support this kaupapa and give their talents to the cause. Kirsten has a great way of communicating with the artists and we are fortunate to have the calibre of our friends supporting.
The concert is a benefit for those affected by Cyclone Gabrielle. How will the funds raised be distributed to the communities that need them?
Kirsten: The money raised will go to Ngāti Kahungunu iwi and they will distribute it to the regions, communities and whānau/families that need it the most in the worst affected areas of the Wairarapa, Hawkes Bay and Wairoa.
Toni: Te Rūnanga o Ngāti Kahungunu ki te Whanganui a Tara (TRONK) is a Charitable Trust that will collect the funds raised through the tickets, koha, merchandise and kai sales. All proceeds will go to Ngāti Kahungunu Iwi Incorporated to distribute throughout the Hawkes Bay, Wairarapa, Wairoa and East Coast affected regions. This includes many communities, schools, marae and families that have lost everything from livelihood to homes to all resources. The recovery is massive, for all communities so Tūtira Mai is our effort to contribute.
If people can't make it to the event, is there anything else they can do to help?
Kirsten: Yes! They can go to our event on ticketspace.co.nz and they can make a donation if they have the means. They can also share our event on their social media accounts. The more people getting the word out the better.
Toni: Yes, we would appreciate it if you could share our event with all your family, friends and colleagues. There is also a koha option for those that would like to contribute.
Is there anything else you'd like people to know about Tūtira Mai?
Kirsten: There will be hāngi and merch available for purchase on the night too. Also, I wanted to say that I have been absolutely blown away by the amount of generosity that has been shown when asking for support for the relief concert, from individuals and businesses alike. The time, dedication, talents and aroha shown for what we are trying to accomplish has been very humbling.
Tūtira Mai will be held at Pipitea Marae from 5pm - 8pm on Sunday 19 March. You can purchase tickets here. If you aren't able to attend but would like to contribute, you can do so direct to: Te Rūnanga o Kahungunu acc: 38-9003-0175982-05 ref Tūtira Mai Relief Koha.