1 November 2022
Running over two weekends 5-6 and 12-13 November, this is the Trail's 21st year. With 120 individual artists and 12 exhibition spaces, this is one of the few art events that allows you to visit artists in their studios and invites you to watch their creative processes. We asked Sonja Williams to share her top picks and tell us more about the trail.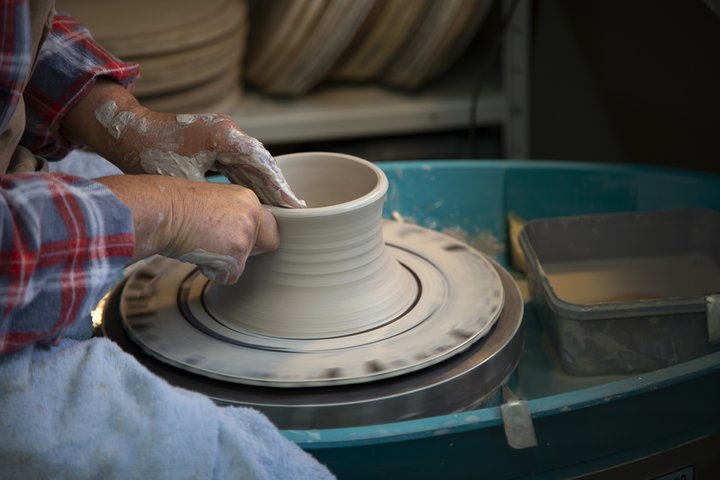 J. Turnbull at work
With so many artists showcased in this year's event, how do customers decide what to see?
Yes, that's a terrible dilemma to have, right? And every year we introduce a number of new artists, so we keep the Trail fresh and inspiring. You can pick up a Guide at any of the participating artists, galleries, studios, and local businesses, as well as council libraries and service centres. It's also online at KapitiCoastArtTrail.co.nz. And this year we've introduced the ability to plan online. You can 'favourite' the artists you particularly want to see and receive your unique Trail itinerary direct to your mobile, so you won't miss anyone out.
This is the 21st year of the Kāpiti Coast Art Trail. How has it changed since its inception?
We're 21 years old and have grown with the times, both in size and innovation. We've evolved from a small community-based local activity to a sophisticated, contemporary, quality event with regional and national appeal. Local businesses are hopping on board to offer rewards to Trail visitors with a chance to go in the draw for a great art prize. And we've embraced technology with the option to plan your itinerary online, then get it all mapped out and delivered by email to your mobile so you don't miss a thing.
What are your top picks for this year's event?
Top 5 😊
Toi Matarau Gallery Māoriland, Ōtaki
Stunning traditional and contemporary Toi Māori, featuring both fantastic emerging artists, and venerated established Māori artists.
Holtom's Art Studios, Paekakariki
A collective of innovative new and established artists representing a variety of mediums.  Featuring the award winning work of Alan Wehipeihana.
A great place to start your Trail, the local cafes serve great coffee too.
Rebecca Bond Jewellery, Renown Art Studio, Raumati South
Exquisite, handcrafted jewellery, reflecting forms of nature, and a commitment to sustainable living.
Yvette Steenberg, Big Mac Creative Centre, Paraparaumu
New to the Trail, Yvette's watercolours are inspired by birds and nature. Found at Big Mac Creative Centre, another one-stop creative collective worth a visit.
Sarah Bromley Pottery, Reikorangi
Slightly off the beaten track, Sarah has a new and beautiful studio in rural Reikorangi, so worth the drive.
Are customers expected to purchase artworks or is browsing encouraged?
Browsing is always encouraged, but it's the perfect opportunity to do some early Christmas shopping or add to you own art collection. We bet you won't be able to resist.
This is one of the few opportunities for people to see artists in their workspaces. Is there any particular etiquette that should be followed?
Participating artists will have the distinctive Kāpiti Coast Art Trail flag outside their studio, so look out for that. If you don't see it, it could be because the artist is unexpectedly unavailable so please don't go in and move on to your next location. We always remind people that in many cases these studios are the artists' personal homes and workshops so please respect that. It's always polite to ask before you take photos.