6 August 2020
We sit down with art curator and collaborator Margie Beattie, whose exhibition have something to say # 2 is currently showing at the Te Auaha Gallery.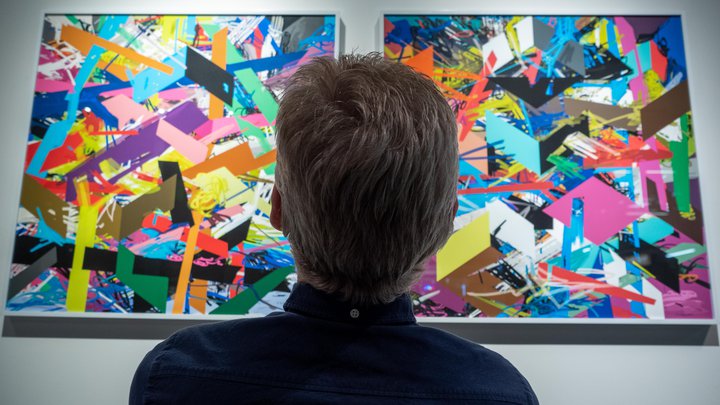 David H Brown with his work at the exhibition. Image credit: Brayden@mediacol.co.nz
Tell us a bit about how you got into curating exhibitions?

I studied art in London when my children were young, after I'd decided to give up being a lawyer, so I've always had the passion. Lots of travel and time spent in galleries and museums have exposed me to a wide range of art. Years later, back in NZ I spearheaded an art show for Wellesley College in Eastbourne, called ARTBOURNE and I also began their Artist in Residence programme. Through that experience, I saw that there was a need for a platform for those artists that aren't represented in galleries but are committed and capable. Galleries have a limited capacity, and there is something alluring in a pop-up exhibition of local artists like this. To survive in the art world you have to be a bit nimble, and that's what this exhibition model offers.

In my experience, artists are compelled to create work, to tell a story, not to make sales. But of course, sales are necessary not only so they can eat, but to give them assurance in their work and professionally develop.  I think that I can offer that little bit of commercial push, by curating a titled collection from their work and encouraging them to exhibit with others. A lot of artists don't like to title their works because they wish the viewer to see what they see without being told what it is.  My view is that you should make it as easy as you can for your audiences to connect, even if it's just a slight nudge, and a title can really do that.  Artists like Wayne Youle who was the first resident artist I organised, is a master of the title in his vast art practice.

The artworks in have something to say are all exhibited in a relatively traditional way (on canvas, framed etc). In an increasingly digital world, what is your view on the value of traditional visual art?

Even though they're on a wall in a gallery, all of these artists are unique in their own way. Elspeth Shannon stretches known art practice by using inks and watercolour on canvas rather than on watercolour paper. Glen Jorna is using repurposed street posters on purpose-made wooden block, showing the beauty of decay. The posters would all have been created digitally, but by virtue of being an advertisement they're grounded in a sense of place and time, which gives it them a sense of immediacy. David Brown's work in this exhibition are all digitally created, even though he is an extremely capable conventional painter. Digital tools are of no less value than what a paintbrush or a pencil can give you. They're all a vehicle to create your vision.

I hear at art schools now they promote the idea that painting is dead, but I think that artists are driven to create what they want, in a medium that works for them and artists and their audiences still respond to painting.

This exhibition is all about giving artists a platform to exhibit collectively. What do you think is the benefit of collective rather than solo exhibitions?

For me, this is all about empowering the artists. By exhibiting collectively, the artists get to share experience and expense. Artists are a very sensitive and vulnerable group, and the self-belief and risk required to do a solo exhibition at a gallery is huge. The success of an exhibition is about connection, with an artist, their story and their representation of that through their work. These collective exhibitions allow the artists' collective tribes of supporters to come together and meld and the artists to forge new relationships with each other.
With the current emphasis on supporting local industry, how do you think we can work to support artists day-to-day?

The most obvious and traditional way to support artists is to buy their work, live with it in your home or at work and give it a place, but beyond that it's all about engagement and visibility. Bring your friends to the gallery. If you know an artist, think about what you can do to really invest in their work. Can you gift them materials? Can you babysit their children so they can be in their studio? Do you have a space where they can work? Creating art is an ecosystem, so think about what places and spaces there are within that system that you can contribute to.
Tell us about an artwork that has really had an impact on you and why.

The Rothko room in the Tate Modern. His work is absolutely mesmerising and the scale is pretty overwhelming. There's so much intensity there that they almost throb with movement. There's something so visceral about them that digital art can't give you.
have something to say # 2 is on at Te Auaha Gallery, Ground Floor, 65 Dixon Street, until 15th August, exhibiting artists David H Brown, Elspeth Shannon, Glen Jorna, Jasmine Chalmers and Owie Simpson.