21 May 2021
Bassist and composer Umar Zakaria is one of the talented musicians bringing his music to the St Peter's Series at the Wellington Jazz Festival this June (9 - 13). His new work Sun Song Suites will bring a day of solar-inspired jazz to audiences familiar with jazz and classical music alike.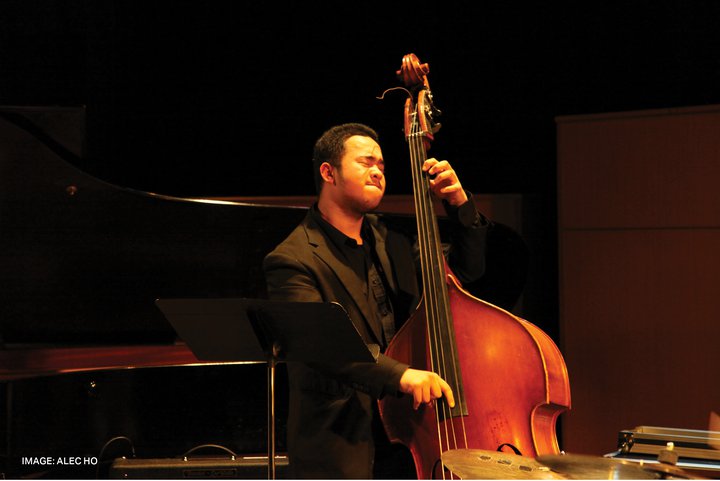 What can audiences expect from your Wellington Jazz Festival gig?
The Sun Song Suites is presented across four different concerts throughout the day, all at St. Peter's on Willis. Each concert consists of a suite that explores the particular time of day that the concert is held - they are titled 'Dawn Songs', 'Daylight Songs', 'Twilight Songs' and 'Night Songs'. The music is based on a dialogue between a jazz trio of piano, bass and drums, and a string trio of violin, cello and bass. The trios overlap with me playing bass in both groups.
The first two concerts introduce the members of the string trio one at a time, accompanied by the jazz trio, before we explore our dialogue in the evening concert. The final suite, 'Night Songs', is a final response by the string trio only. Through this project we are building a bridge between jazz and the bowed string instruments that are more common in classical music concerts, but you could easily cross that bridge in the opposite direction if you are more familiar with strings and want to introduce yourself to jazz instead.
It's been really fun to work on a piece of this scope that allows me to weave together a wide palette of influences, and I think they complement each other well. My writing for this project has been strongly influenced by the era of modal or 'spiritual' jazz that emerged in the 1960s, which I think suits the 'massiveness' of the themes that we are exploring through the Sun Song Suites. Interspersed with that is a bit of free improvisation and a touch of mischief, providing an opportunity to peel back some layers to explore who we really are with or without the influence of the sun in our lives. Of course there's a bit of influence from classical composers in there too, since they have really spent a lot of time figuring out what works well for the cello and violin. And I'm very excited that for the first time in my compositional journey I'll be creating several spaces for taonga pūoro improvisation, which makes absolutely perfect sense for a New Zealand jazz piece - thanks to the expertise of our cellist Ruby Solly.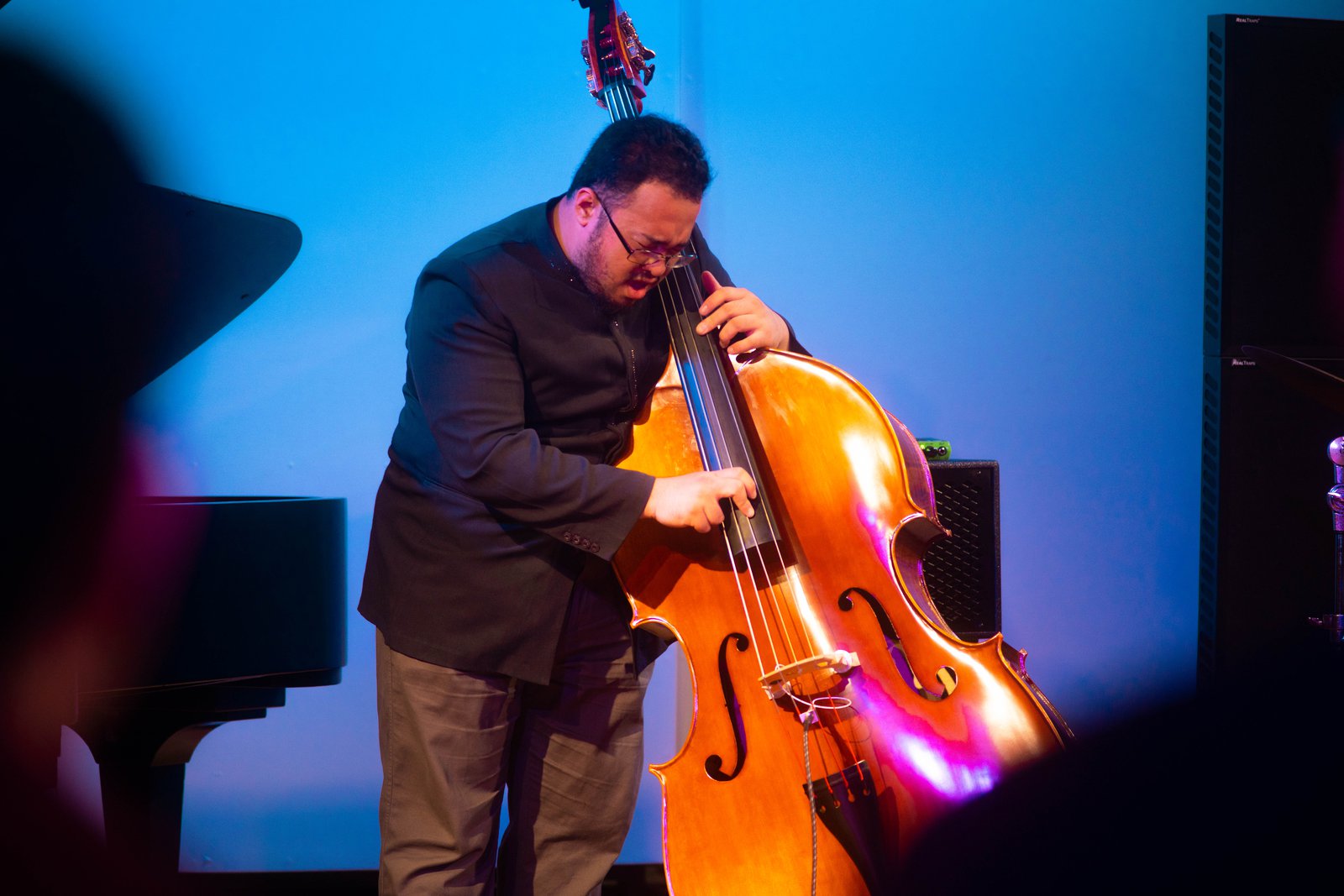 Ben Stewart
What inspired you to create music inspired by the phases of the sun?
I've known for a while that there are several venues in Wellington that are happy to rent their space out to musicians for an entire day, not just a few hours, so I've been wanting to put together some kind of all-day production for a while now. In a one-day series like this, attending each concert adds even more to the meaning of the last and, taken as a complete set, the entire series is an immersive creative experience. This was also an opportunity to try out a new compositional form that I hadn't tried before - a form that exists across multiple performances, that can only be fully appreciated by attending all of them.
As for the theme of the concert, the idea exists in the format itself - when I asked myself what kind of experience our audience would have at this event, it became very clear that the time of day would be one of the things that not only made each performance distinct, but also connected. When I thought about the physicality of that connection, the first thing that came to mind was the sun, and the way that our experience of the sun changes throughout the day, yet the sun itself doesn't change - we are the ones who are moving around it. It also occurred to me that the same person coming to a morning concert at 8am would also go through some changes by the time they came back for an evening concert at 6pm, depending on what kind of day they were having. And similarly to the sun, we're looking at the same person throughout these different times of day, but their experience of who they are may be altered as the day goes by.
The creative core of the Sun Song Suites experience is not so much about the phases of the sun itself, but the phases of who we are as people as the day goes on from morning, to daytime, to twilight, and into the night. And even as we are enjoying the music that explores this idea of change, we are ourselves going through the very same changes that the music is exploring. In the end, experiencing the entire Sun Song Suites series offers an opportunity to encounter who we are at each particular time of day, and witness the passage of our own lives accompanied by the sonic changes reflected in the music. I'm personally really looking forward to that experience.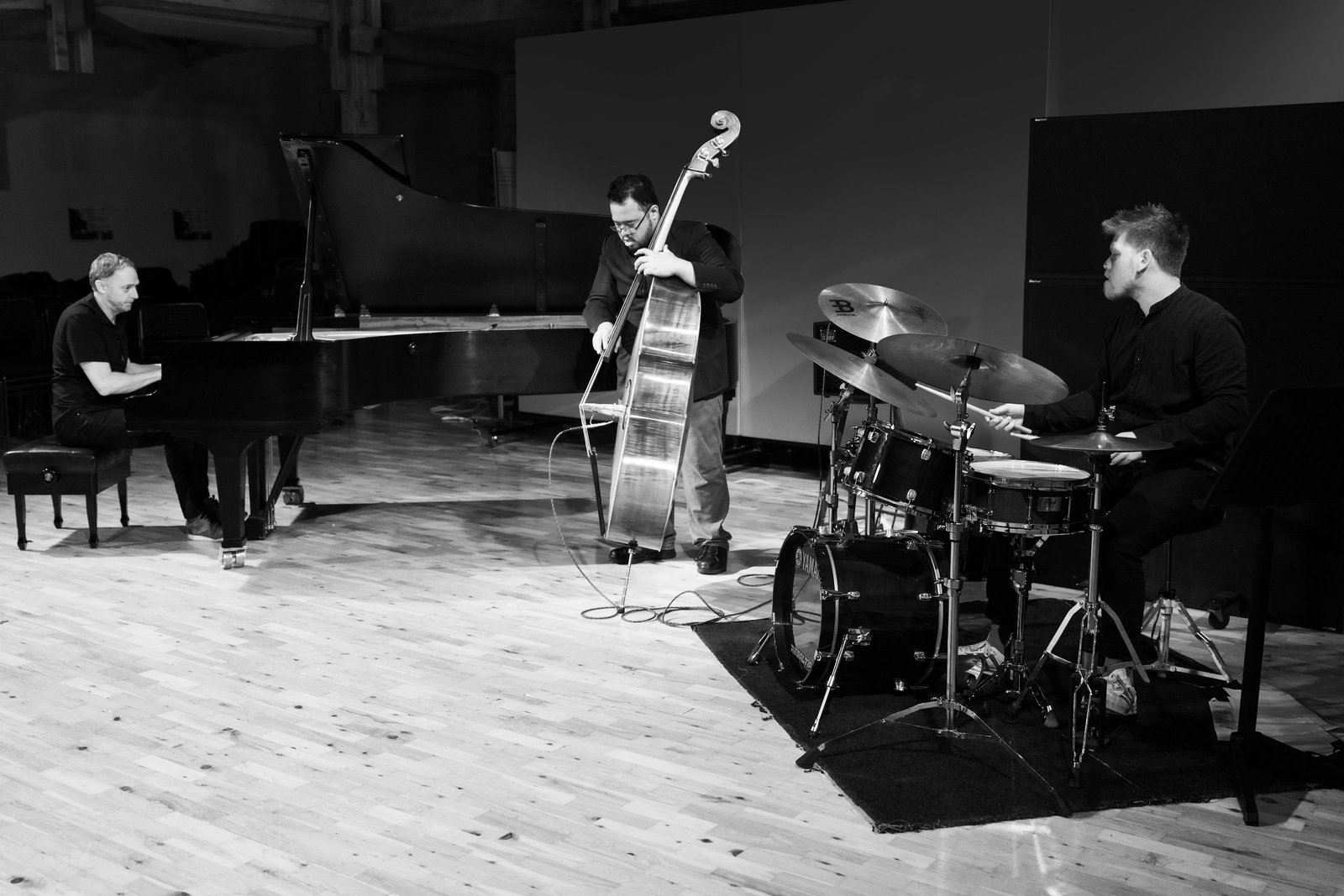 Ben Stewart
Sun Song Suites will be performed by a new ensemble. Can you tell us a little bit about the musicians you'll be working with, and why you chose them for this project?
In the jazz trio, I'm joined by Duncan Haynes on piano and Luther Hunt on drums. Luther is my "number one guy" in Wellington, we've spent many hours figuring out how to play together, and I often feel like he can read my mind musically. I met Duncan Haynes last year, as he's just returned from living overseas. The few times that we were able to play together resulted in some absolutely electric moments, so I've asked him to join me and Luther for some trio projects this year, including the Sun Song Suites.
In the string trio, I'm joined by Tristan Carter on violin and Ruby Solly on cello and taonga pūoro. I've known Tristan for many years, but I think I've only officially performed with him once. I aspire to be as versatile on bass as he is on violin - I can't think of anything I would ever want to ask from a violinist that he can't do. And Ruby has always inspired me as she is such an uncompromisingly individual artist. She combines cello, taonga pūoro, poetry, writing, musical composition, music therapy and research into her creative life to create art in a way that nobody else can, so I'm very happy that we are finally able to perform together.
I've always wanted to write a composition for this 'double trio' format. I play mostly jazz now, but I originally started on the double bass playing classical music. In jazz, a 'piano trio' means piano, bass, and drums. In classical music, a 'piano trio' means piano, violin, and cello. My original idea for a 'double trio' format combined both piano trios, which is also an expression of my own mixed musical experiences. But for this concert, we centre around the bass as shared territory instead of the piano, so it's really a piano trio and a string trio. And I'm lucky to be working with two great string improvisers in Tristan and Ruby, which is a rare treasure.
The Umar Zakaria Trio performs 'My One and Only Love' with Luther Hunt on drums and former pianist George MacLaurin.
You've performed in Singapore, the Netherlands and the US, with some of the world's greatest musicians. Where's next on your wishlist?
I would really like to go back to Japan and perform there properly. I lived there for about a year and a half under the cover of teaching English, but really for the sake of practicing my instrument and staying out of trouble. I tried my best not to perform too much at the time, but I met a lot of great friends there that I'd like to reconnect with and play together again. And surprisingly, I've never performed in Australia - the first time I made friends with Australian jazz musicians was when I visited Canada two years ago. As the border hopefully begins to open in the near future, I hope that I can start visiting Australia and sharing my music with my new friends there too.
When you won NZ Best Jazz Artist in 2018 for your album Fearless Music, music reviewer Graham Reid said, "If you are even vaguely curious about the state of New Zealand jazz then this is the album you need to hear." How would you describe the Aotearoa jazz scene right now?
We are still in our early days, but we have a lot to look forward to if things keep going in the direction that they are now. A lot of new music has been coming out recently, and a lot of great new artists are emerging to make their mark on the scene. This is very encouraging to me.
I would say that the Aotearoa jazz scene, which includes musicians, audiences, and the people working behind the scenes to bring us together, is at the beginning of a process of learning to listen to each other. Not only to each other's music, but to the needs and concerns of the various populations that make up our community, including individuals from all gender identities and from diverse cultural experiences. Jazz is an art form that recognises, encourages, and I would go as far as to say that it absolutely demands diversity. In order to honour that, every individual needs to be able to feel not only that they can speak freely but also that they can be heard by the community, otherwise neither the individual nor the community will be able to benefit from the full extent of their creativity. The most important thing we can do right now is continue to improve our listening.
Whenever we encounter ideas, interpretations and identities that are completely different to our own, we must welcome them to speak in their own way and make an effort to understand them - we must do better than only listening when they speak in a way that we are already comfortable with. When we expand the base of voices that can freely speak and be heard, we also expand the base of our creativity, and we expand the range of tools that we have at our disposal to communicate our ideas to each other. This is how our scene can pave the road towards a mature, unique, and powerful musical identity that we can all be proud of and that can withstand the test of time. If we find ourselves up to this task, which I believe we will, then I would say that the future of jazz in Aotearoa is indeed bright.
Catch the Sun Song Suites at the Wellington Jazz Festival at 8am, 12pm, 6pm and 10pm on Friday 11 June. Take your pick or attend the full suite.