Claire Mabey • 12 February 2021
Claire Mabey, the prolific force behind Verb Wellington and the New Zealand Festival of the Arts Writers Programme, talks her new hybrid festival of music and words, The Garden Party. Coming to the Wellington Botanic Gardens from 20 - 21 February.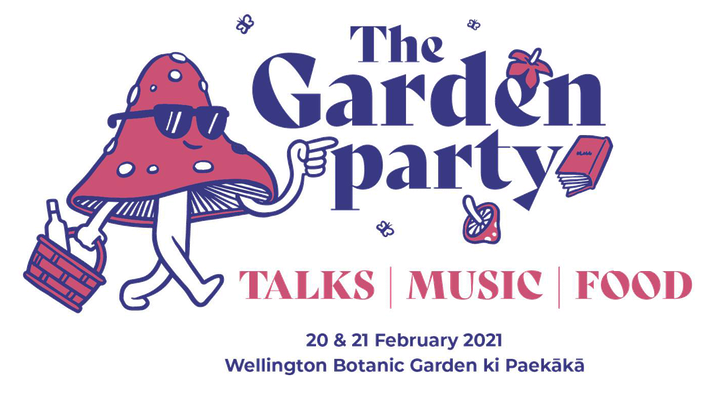 The Garden Party is a product of lockdown 2020. As I sat in my bedroom wondering about what the future of writers & readers festivals might be I began to crave the feeling of being on grass, with a picnic, with people all around, listening to interesting things. I love music outdoor festivals. There's something special about a crowd coming together under the sun — everywhere is the atmosphere of freedom.
I wanted to bring the writers festival into that world. The Garden Party then is a hybrid of sorts: you'll be able to sit and listen to wonderful Aotearoa writers who have led fascinating lives and are doing interesting things (Anna Fifield, Annabel Langbein, Thomas Sainsbury, Elizabeth Knox, Witi Ihimaera...) but you'll also be hearing live music and listening to top musicians talk about their songs.
Church & AP and Ria Hall are the artists finishing each day of the festival and I can hardly believe my luck. They are two of Aotearoa's most talented musical acts and each have fascinating kōrero about their song writing, their journey. Leonie Hayden (of The Spinoff) will be chatting to each of them before we listen to a performance and I can't wait.
I also knew I wanted this festival to have family friendly vibe. On Sunday 21 we start off with the very first outing of a new script by Witi Ihimaera, based on some of the stories in his stunning collection Navigating the Stars. Taki Rua productions have assembled the most incredible cast, led by director Maiava Nathaniel Lees, to create a performance that I know will bring so much joy to kids and adults. Then we have a nutty kind of quiz full of bookish questions and hosted by Toby Manhire and Toby Morris. Really this is about dressing up: we want everyone to dress up as your favourite book character because why not! Spot prizes will feature heavily throughout the festival.
There are a few hidden gems too: like a walk + talk + afternoon tea with Karl Maughan and Arihia Latham (info and tickets here); a talk by Matt Morris, author of the fascinating book Common Ground: Garden Histories of Aotearoa; and the Garden Party After Party on Saturday night at The Hunter Lounge (live music, some fun new awards, fellow festival goers, artists and festival makers).
We're excited about this new kaupapa and look forward to seeing Wellington Botanic Garden's filled with curious people, picnics, families and fun in the sun!
The Garden Party is taking over the Wellington Botanic Gardens on 20 and 21 February 2021. Find out more or check out the timetable below.