6 December 2017
The Jac share some of the behind the scenes highlights from their recent trip to the Jarasum International Jazz Festival, the exciting finale to their 2017 Wellington Jazz Festival project.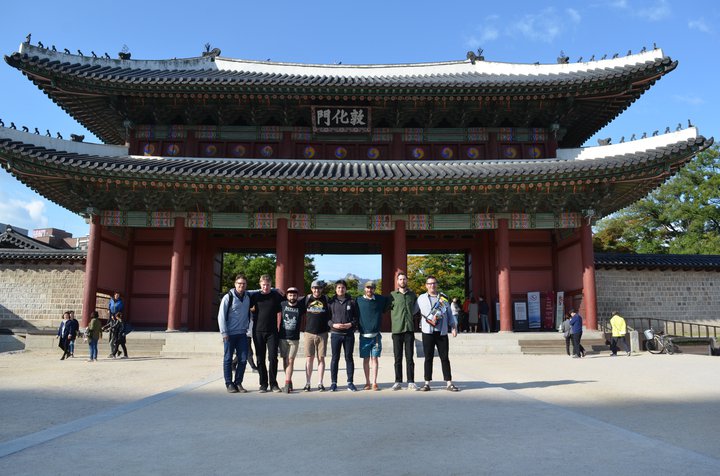 The Jac. L-R: Matt Allison, Chris Buckland, Callum Allardice, Thomas Botting, Daniel Millward, Jake Baxendale, Shaun Anderson, Lex French
Last December, Jake Baxendale and Callum Allardice of Tui Award-winning New Zealand jazz ensemble The Jac travelled to Seoul in a quest for a new sound with South Korean quartet Black String. The two were exploring common ground and laying down ground for their "stunning" (Off the Tracks) 2017 Wellington Jazz Festival show Seoul Jazz in June, made possible with support from Creative New Zealand.
Fast forward to October, when the full Jac ensemble were on their way to Seoul for an encore performance at Bukchon Music Festival, along with a solo spot at the prestigious Jarasum International Jazz Festival.
This was the first trip to South Korea for most of The Jac band members and, while they weren't sure what to expect, they returned home delighted – by the food, their generous hosts, the blow-out reaction to their music and more. Here they share some personal insights (and the occasional travel tip) from their cross-cultural musical exchange.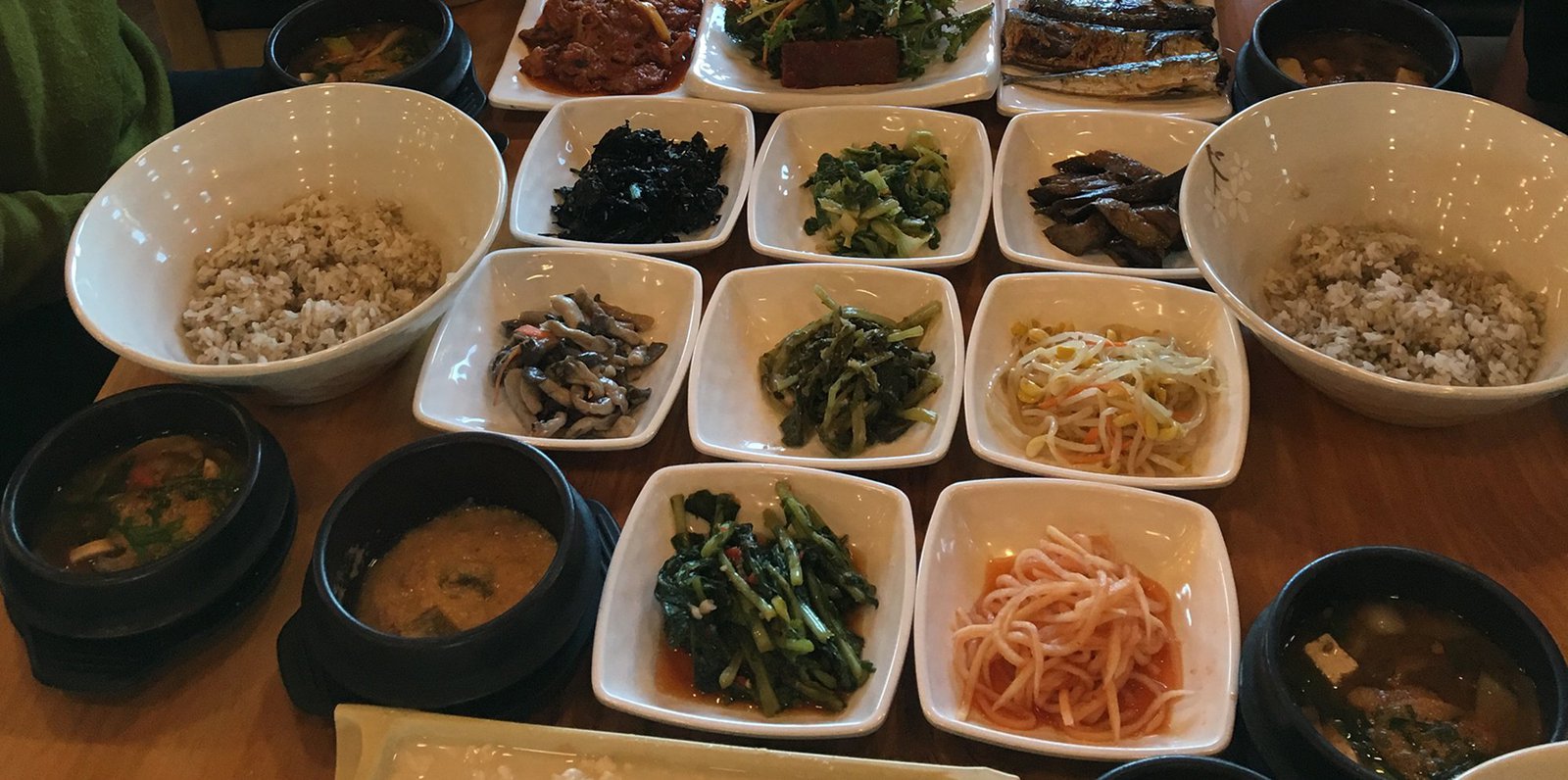 Kimichi with everything.
1. Kimchi is served with everything
Kimchi is served with everything. Actually everything, even breakfast. I don't think there was one meal I had in Korea where kimchi didn't make an appearance, luckily for me I really like it! I even managed a trip to the Kimchi museum in Seoul (which ended up being right beside our hotel). No bread or dairy really made an appearance anywhere either. The food was awesome! Chris Buckland (tenor saxophone)
I had experienced kimchi before, but that was probably the extent of my knowledge of Korean food. I certainly wasn't aware that it would come with almost every meal I ate during my time there (with the exception of a fairly excellent pizza we managed to rustle up in a mall in Suwon). The reason for this is not that I have a conservative palate; quite the opposite. However, as a vegetarian, the Korean restaurants I have passed in New Zealand and Australia have never looked like particularly good options for me, and I wondered prior to the trip whether I would find anything to eat at all. Thanks to our trusty helpers/guides Kwon and Jay though, I was able to embark on a culinary adventure which has opened my eyes to a completely new world full of fresh, spicy, fermented, sour, sweet, and salty delicacies which I can see will cause me much trouble in trying to recreate at home. Thomas Botting (double-bass)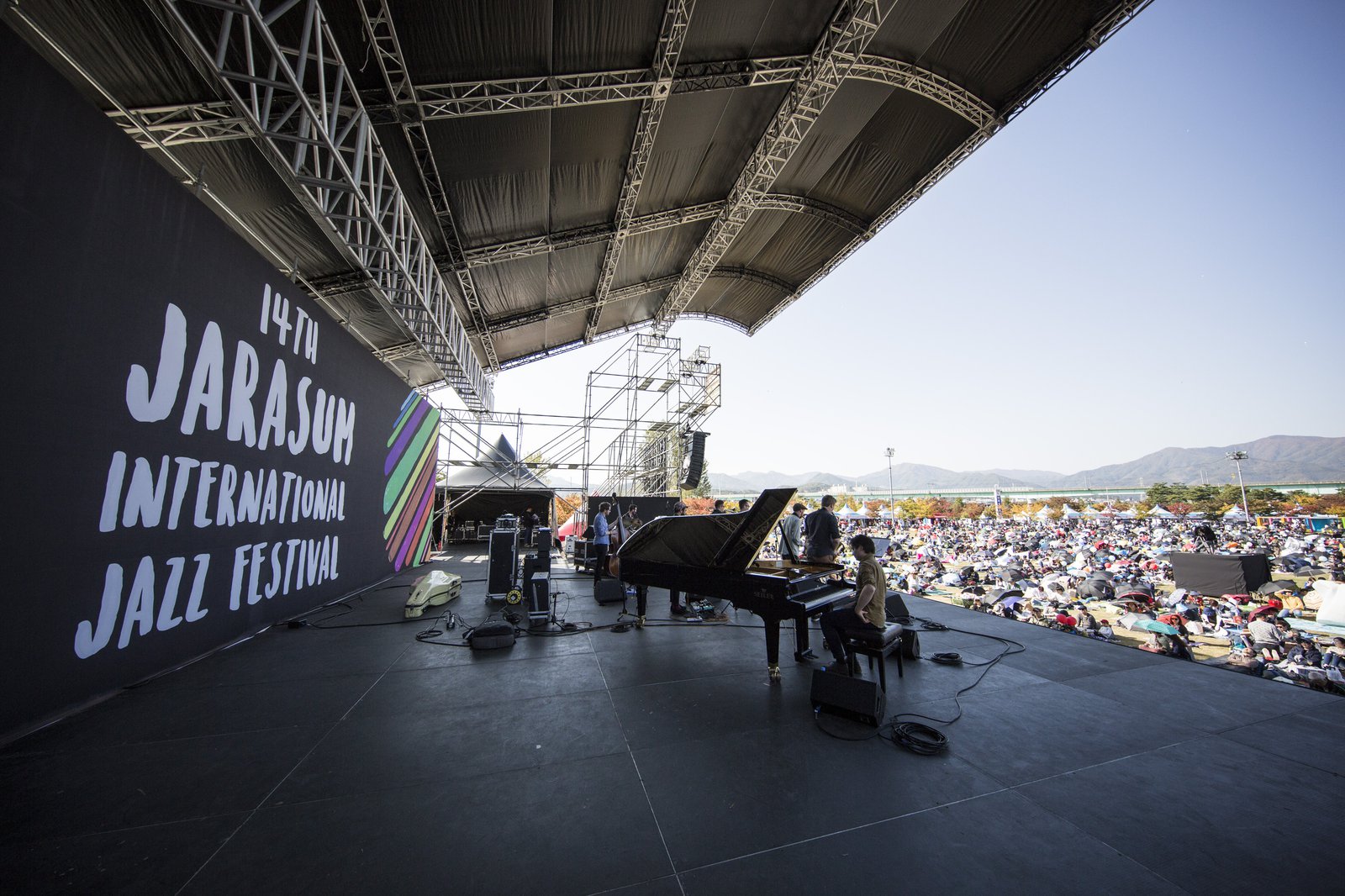 The Jac perform at Jarasum International Jazz Festival
2. Jazz is big in Korea
I should have guessed by the scale of the room and equipment at the rehearsal studio where we worked on our collaboration with Black String that Koreans don't do anything by halves. Still, as we pulled into the Jarasum International Jazz Festival for our first performance, I was shocked by the scale of the event we were about to be a part of. I was completely unprepared for Big Day Out-sized stages and thousands of people enthusiastically enjoying a genre that is for the most part relegated to basements and warehouses in my day to day experiences. Thomas Botting (double-bass)
The first show we did was the Jarasum International Jazz Festival. This was a HUGE jazz festival on an island about an hour out of Seoul. The stage we played was the size of a main stage at a big rock festival. The two local big bands that played together before us sounded great so jazz is obviously alive and well in Korea. Chris Buckland (tenor saxophone)
Jarasum, what an amazing festival. My mind boggles at the amount of people that were at the Jazz Island venue, the atmosphere was amazing. The stage we played at had a great crowd and relaxed atmosphere, not to mention we were obviously well looked after. A+ would trade again (read I will definitely try to return to this Festival). The most interesting thing I found were the audiences. No matter how big or small, people were stoked to be there, to come up and meet you, have a photo, get their CD signed. I've never experienced that anywhere… Callum Allardice (composer and guitar)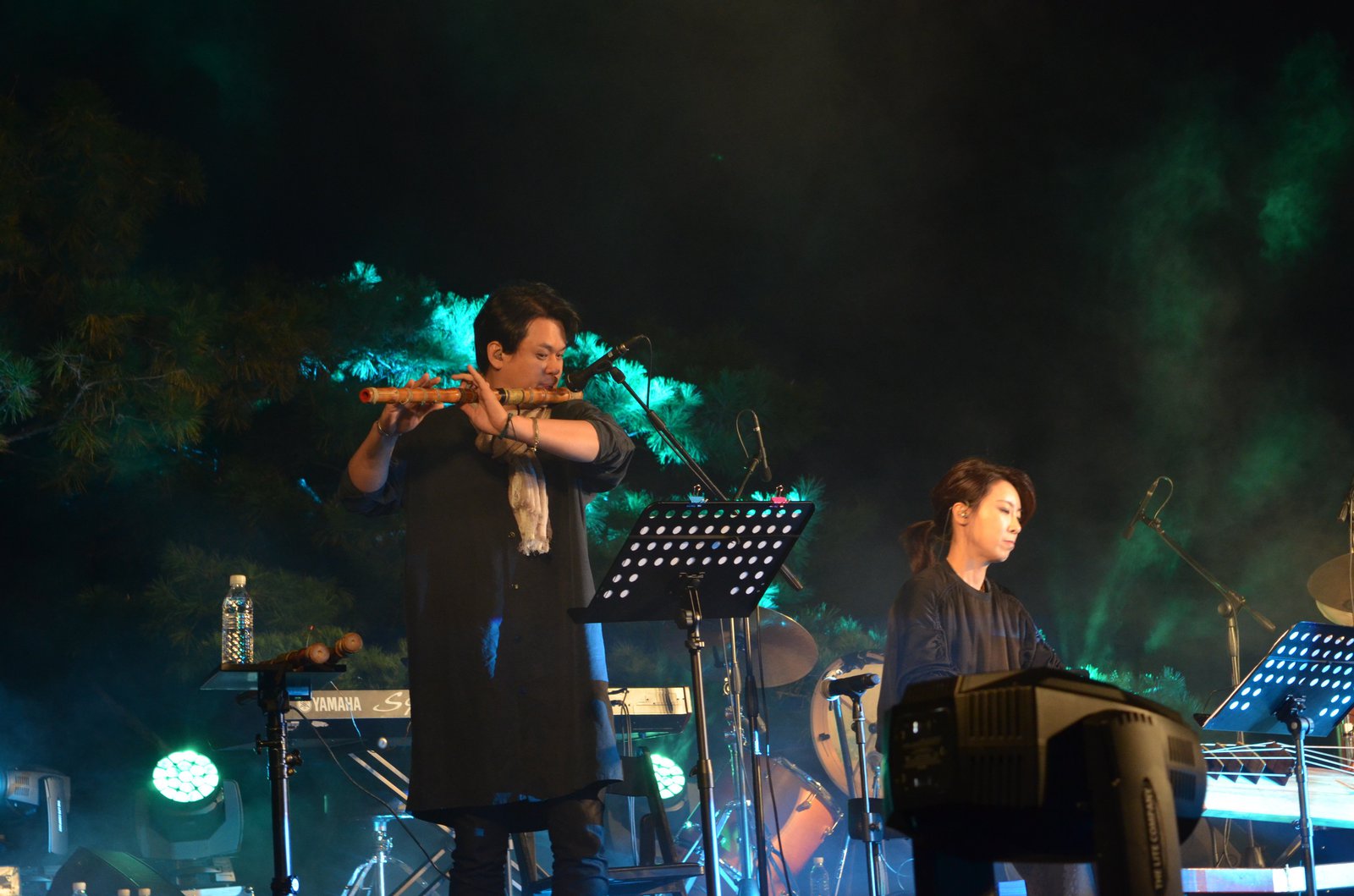 Aram Lee (daegeum) and Yoon Jeong Heo (geomongo ) from Black String perform with The Jac at Bukchon Music Festival in Seoul.
3. Traditional Korean music and instruments are really cool
The second show we played was in a park next to a massive palace in Seoul. It was a festival focused on traditional Korean music and other world music (we were billed as 'world music'… I guess we are here). There was lots of variety and seeing all the traditional instruments was great. Jake, band leader, alto saxophone and composer, was particularly enamoured by them and ended up buying a bunch of flutes and reed instruments to bring back to New Zealand. Chris Buckland (tenor saxophone)
Having the opportunity to travel to South Korea and hear various incarnations and versions of traditional Korean music in its homeland was a special experience. At the Bukchon Music Festival, hearing instruments such as the geomungo (a Korean zither, familiar to me from hearing/ playing with Black String) as well as striking instruments like the saenghwang (a reed mouth organ type wind instrument) being played alongside electric guitar or bassoon, was very captivating.
It was interesting visiting music related places in the city (the overwhelmingly huge Nakwon Music Mall, and various traditional instrument shops), one particularly amusing instance was seeing a set list of Korean songs in a small wooden flute shop with New Zealand's own Pokarekare Ana listed as a song to play amongst the majority of Korean tunes written in Hanguel. Daniel Millwood (piano)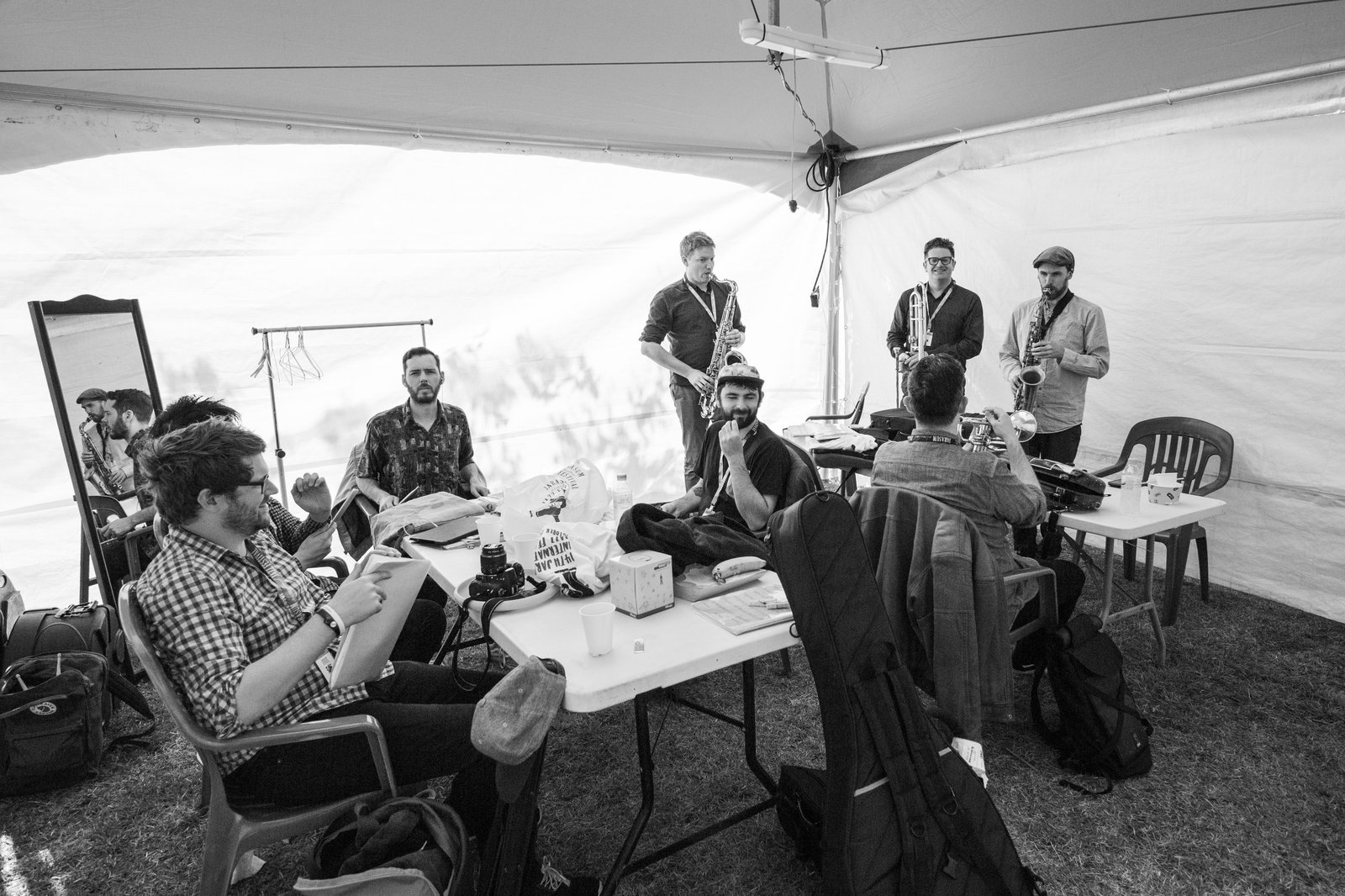 The Jac backstage at Jarasum International Jazz Festival.
L-R: Thomas Botting, Daniel Millard, Shaun Anderson, Chris Buckland, Callum Allardice, Lex French, Matt Allison, Jake Baxendale
4. As a visitor to South Korea, you get SUPER looked after
The Korean side of the trip provided us with a localguide/organiser/manager, they were really friendly and extremely helpful with a few language hurdles. Many, many people spoke English (better than me I'd say), but it was great having someone to help out and show us all the hot tourist spots and fun places around the country. We also had our own bus and driver, as well as a road crew who did sound and set-up/packed up everything for us…amazing. There's a big culture of volunteering in Korea and it turned out our local guides were volunteering to do the job. Chris Buckland (tenor saxophone)
As a regular touring musician, the hospitality and organisation of this tour was absolutely second to none. Having Eva as a tour manager and the two Korean guides meant that the focus as a musician was primarily geared toward performing to very high standard. This made for an incredibly rewarding experience for myself and the band. It also meant there was a more enriching engagement with the concert goers on and off stage. With the aid of both Jay and Kwon we were able to get a deeper understanding of South Korea and its cultural offerings. Shaun Anderson (drums)
In terms of touring life, this has been the best/easiest tour I've ever done. Usually I'm sharing a couch with Jake so to have a tour bus, guide, manager, and road crew is incredible. I wouldn't say that touring wasn't still hard work, but not having to get to the venue and set your gear up an hour before you play is definitely conducive to playing well. Callum Allardice (guitar and composer)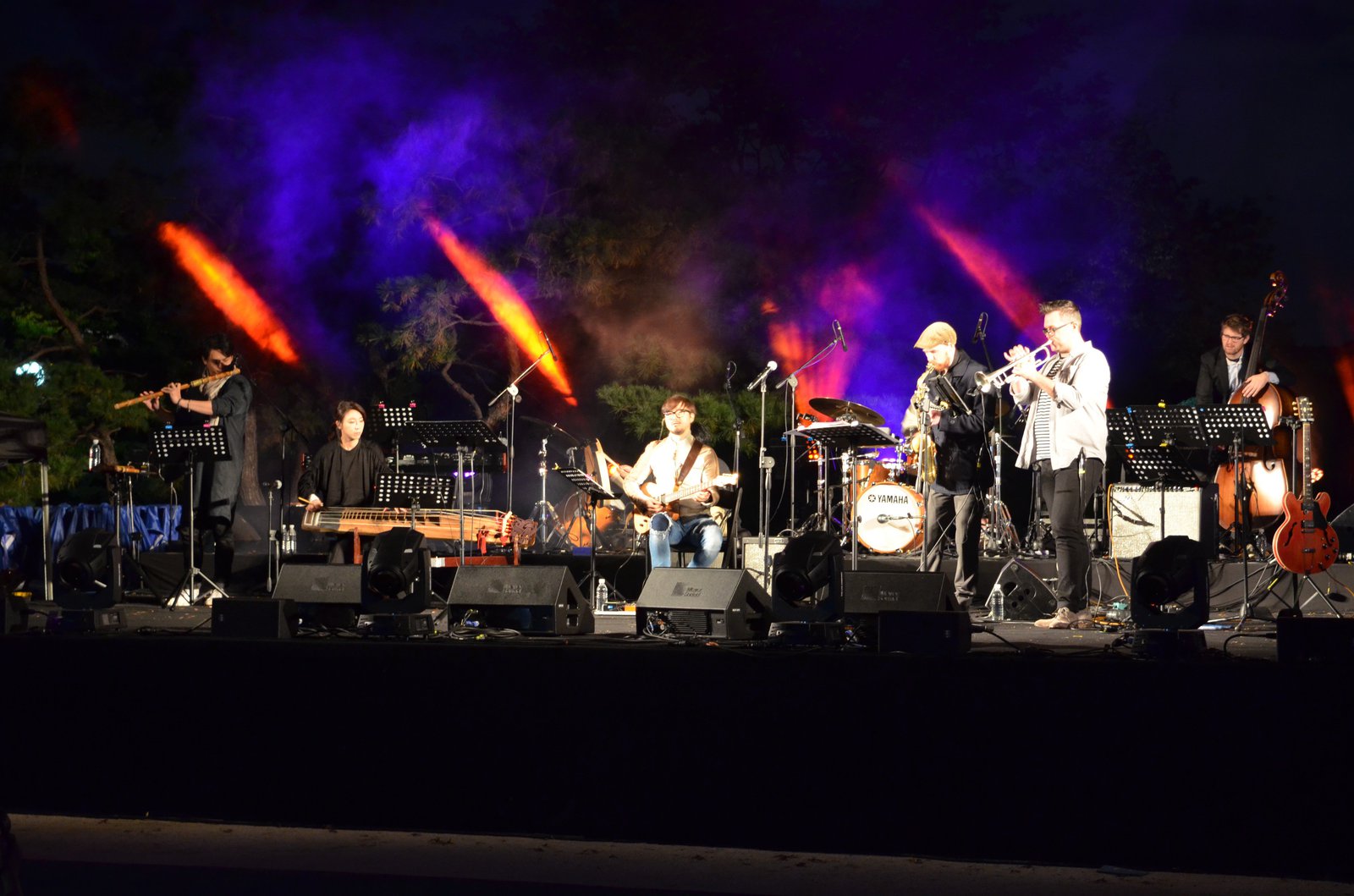 Black String and The Jac perform together at Bukchon Music Festival
L-r: Aram Lee, Yoon Jeong Heo, Jean Oh, Jake Baxendale, Lex French, Thomas Botting
5. Cross-cultural musical exchanges are mind-blowing
The opportunity to be able to perform with Black String was a definite highlight of the trip for me. It is always amazing to experience musicians of all genres in any culture who have obviously put so much time into honing their craft. To be able to make music with such extremely talented individuals possessing a completely different aesthetic, groove and approach was beautiful and humbling. Thomas Botting (double-bass)
These collaborations are always challenging, especially in this case when dealing with different approaches to harmony and an entirely different rhythmic tradition. However, cross-cultural collaborations in music such as these allow us to dig deep into a different tradition, and to try and view it from the inside out. Alexis French (trumpet)
The collaboration between The Jac and Black String was a fantastic opportunity to immerse ourselves in traditional South Korean music. It was a great way to experience improvisation from a different angle. The smaller ensemble gave the music a chance to breathe and allowed for a more dynamic and interactive platform to share our ideas and cross pollinate our musical cultures. Where spoken language proved to be a small barrier the improvised nature of the music showed that we could transcend this and have a compelling conversation that spoke clearly to the musicians on stage and the audience alike. Shaun Anderson (drums)
I can see a whole world of music opening up ahead of me now, and I'm committed to exploring it more and making it a part of The Jac's sound, and my own. All the traditional/fusion groups I saw at Bukchon were inspiring (shout out especially to John Bell's group and the very fun Ak Dan Gwang Chil, check them out). I even walked away from Seoul with three of the traditional wind instruments; piri (a small double reed bamboo pipe) taepyeongso (another double reeded instrument with a metal bell and a blaring sound) and a daegeum (like the flute played by Aram Lee of Black String, except plastic for want of a few grand!) Time will tell if I'll be able to get any of them together and put them to use - the main thing is that I'm able to take home a little of the sound. Jake Baxendale (alto saxophone, band leader and composer)
Want more? Listen and learn on The Jac website.