Jo Randerson • 26 February 2021
Jo Randerson, writer, actor, theatremaker and as of New Year's Day 2021, Officer of the New Zealand Order of Merit, is a well-known face in the Pōneke arts scene. But what you might not expect is Randerson's love of science, and how it continues to inform her art practice.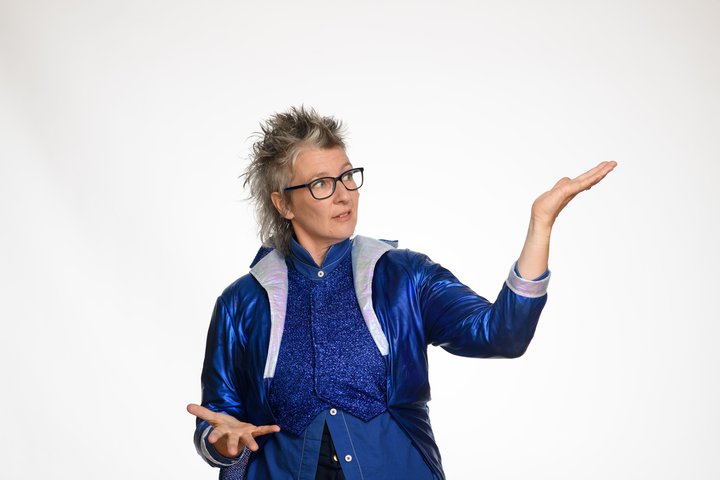 Mark Tantrum Photography
When I look back to where I was at the end of high school, I am often surprised that I am an artist. My top subjects at school were maths and science, I was especially strong at calculus and physics. I remember in the last year of high school many teachers asked what I wanted to study next – all I knew was that I didn't want to do any of the careers that were being offered. Art was never mentioned.
Sometimes I think the art-making process is quite akin to science: an experiment involves having a hypothesis (an idea, maybe even a hunch) which one then states, makes a test of, and reports the findings. Our teacher used to say, 'it doesn't matter whether your hypothesis is wrong or right, as long as you are clear and honest about the result.'
This sounds like making a show to me – based on the current knowledge you have, one creates a situation to test an expression and shares it with an audience. Over a lifetime, an artist's 'experiments' are refined, shift into new fields and the results are accumulated into a collective body of social knowledge.
I was delighted to do a cross-industry collaboration with scientists in 2007 called Are Angels Okay? As writers we were paired with scientists who we then grilled in research for a text. I was very fortunate to be paired with the outstanding human Paul Callaghan. We had extremely fast-moving conversations and I really enjoyed where our different thinkings hit boundaries: for example, God was not a concept he entertained, but the way he talked about 'Nature' (with a capital N) sounded exactly like how my father talks about God.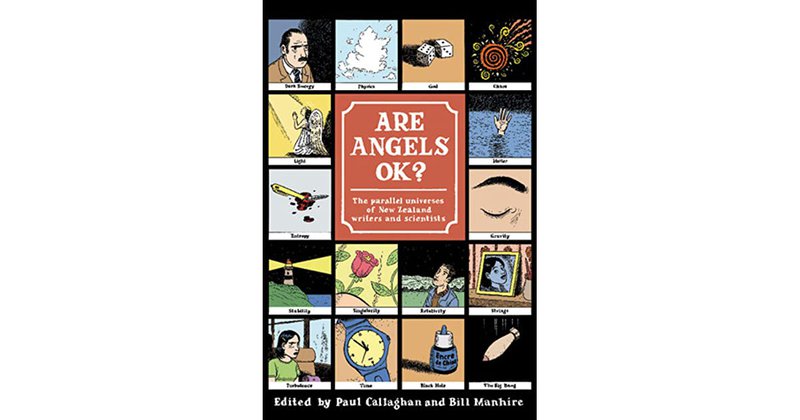 Are Angels Okay? Victoria University Press, edited by Paul Callaghan and Bill Manhire.
Science and art are two sides of a coin, like art and money, like spirituality and the material world, like stillness and action. In fact, this metaphorical coin has many more sides than two, and the acceptance of multiple ways of looking at the world which intersect is crucial for survival. We live in a pluralistic world and are constantly encountering other perspectives – this complexity makes for a rich (and challenging) existence.
What I liked about science is that the tests were actual, in the real world – just like art-making. It's not just a theory, it has to be proven. Art is 'proven' in the response of an audience, and there will be many different responses to any one piece of art. As my great teacher Jean Betts used to say, 'all you have to do is make sure the people who want to see your work can see your work.'
I will always be interested in science, especially new explorative science which constantly discovers new realities. But deep in my soul I am eternally grateful that the languages of music, image, live action and text unfolded in my existence and now form the key ways I engage with the wonder and practice of the world around me.
---
Jo Randerson will present the second in a series of theatre lectures Secret Art Powers: Lies and Fluidity at St Peter's on Willis on 13 March 2021.
Want good emails? Sign up to receive the full ARTicle digital magazine here.
Ko Māungawhau te māunga, ko Whanganui-a-Tara te moana.

Jo lives in Pōneke as Artistic Director of arts company Barbarian Productions, based in an old bowling club run by the local community. Jo is a playwright, short story writer and poet, as well as a performer and director. Winner of the Bruce Mason Playwrighting Award, the Robert Burns Fellowship and also a New Generation Arts Laureate, Jo's work focusses on radical and fun ways of bringing people together to discuss issues where there is tension. She is also passionate about improving the infrastructure for artists in our country so they can live sustainably, and most of all about using poetry – in the broadest sense – to create change.

www.barbarian.co.nz