15 February 2023
He Wai is a collection of waiata celebrating the marine life that live in the waters off the coasts of this beautiful country, along with award-nominated waiata about the native birdlife of this land. Husband and wife duo Emily and Charles Looker, who perform under the name Aro, took some time to talk to us about the whānau-friendly show they will present in the 2023 Auckland Arts Festival.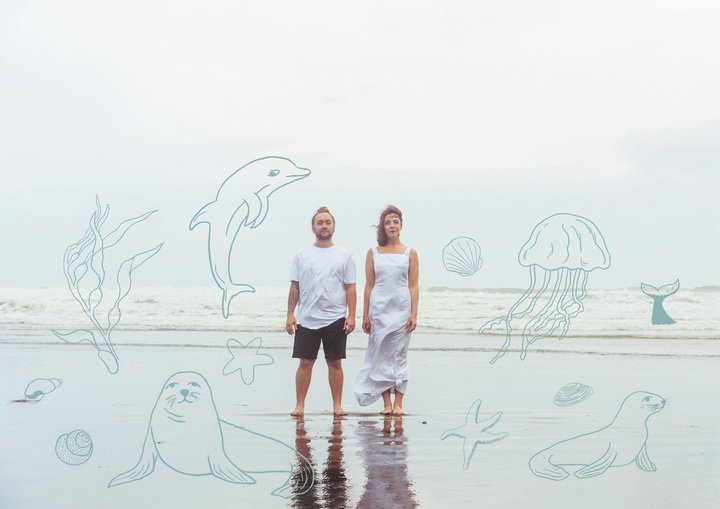 Photo by Beka Hope; illustration by Camila Araos Elevancini.
What can audiences expect from your performance at the upcoming Auckland Arts Festival?
We love this quote from Rosheen Fitzgerald, who saw us perform in Hastings a couple of years ago at the Common Room -
"It all adds up to a warmth of experience, wholly original, anchored in Aotearoa, that left all who had been present to it with the feeling of having been let in on a special secret."
It's wholly original in that the stories that inspire our music are unique to Māori and unique to Aotearoa, but in no way shape or form have we come up with these stories - these pūrākau have been handed down through generations, and it's an honour to be able to celebrate them at our upcoming shows.
Aro is made up of my husband Charles and me (Emily), and our performance is made up of storytelling and sharing our bilingual tunes, which are pretty much all inspired by nature and relationships.
Our live sound is created by use of looping - vocal looping by me and guitars and rhythms by Charles, which accompany both of us leading the waiata with our voices. There's a lot of harmony and rhythm, combining elements of kapa haka, jazz, pop and R&B.
Your show is inspired by marine life. Which sea creatures were you most inspired by?
Taniwha, mostly because the typical perspective of Taniwha is that they can be seen as monsters who do bad things. But although they are wild and fierce, most of them are kaitiaki of people and of the land and sea. My late grandma, Ruth McDonald was a teacher and a writer, and she wrote a poem called Dragon Talk, which inspired this waiata - so it's very close to home having her thoughts woven into this tune as well. My tūpuna, my kaitiaki.
Another tune off our He Wai EP (stories of our waters) is called Whai - inspired by the story of Hape. The song talks about the journey Hape had to make to reach Aotearoa and requires some crowd participation to help him get there.
What are your favourite things about performing to an audience of whānau?
It's always so fun having young people (tamariki) at our shows, they bring their own energy and haven't got any fear getting right into the waiata with us - joining in with actions and not being afraid to express themselves freely when they hear a groove or story they like. We find that often at our whānau shows, the parents get into it just as much (sometimes' even more!) than their little ones, which is always a good time.
What part of creating new music do you find the most rewarding? Writing, recording or live performance?
All of it is so different and such a treat, but it is so exciting when a song really clicks and comes together. That moment when we finish writing a section of a song and are both buzzing on it together - I think that's the biggest joy - the fact that the whole process is a collaboration - it's so fun getting to share it all together. Getting to write, record and perform the songs together. Sometimes the songs take different forms, depending on who our audience is as well.
What music have you been listening to recently that inspires you?
We've been listening to a lot of Natalia Lafourcade lately, she's a Mexican singer songwriter whose music is so organic and beautiful, rich in rhythm, harmony, and though we don't understand the lyrics, we can feel the wairua of the music which is something else. She's grounded in her culture, and we can't help but be moved by her expression of it.
---
Fun for the whole family, He Wai includes elements of folk, soul, haka, and jazz to bring audiences of all ages together in a celebration of the natural world that surrounds us. Children, rangatahi and adults alike are encouraged to dress up as their favourite animal or in their best dancing clothes and groove to the music of this celebrated and talented duo.
Fri 17 March, 11:00am - Māngere Arts Centre – Ngā Tohu o Uenuku
Fri 24 March, 11:00am - Titirangi War Memorial Hall
Sat 25 March, 11:00am - Artworks Theatre, Waiheke Island
Click here for more info and to purchase tickets.