13 September 2022
Ella Gilbert is the writer/director of Mary Mary, one of this year's six short films made with the support of Outlook for Someday's Someday Stories initiative. Ella tells us about her experiences making the film and telling a deeply personal family story on screen.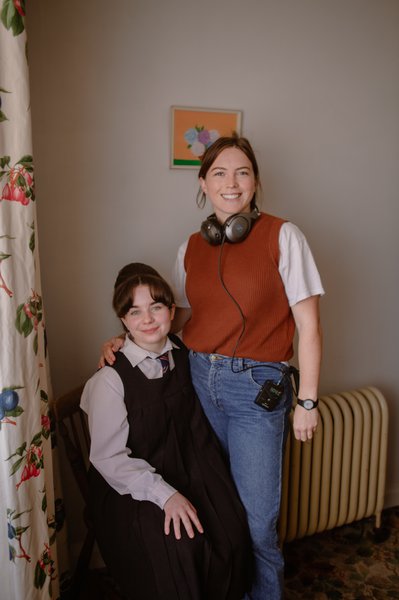 Ella Gilbert and lead actor Maya Le Roux photographed by Celeste Fontaine
How did you get into filmmaking?
My dad was an action movie actor in Hong Kong in the 80's (he did all his own stunts) - so I wanted to be an actor like him. I went to Toi Whakaari, and started making my own work with my friends. Our film collective 'Don't Shoot Films' cut our teeth on Super8mm film. Making movies on Super8 was how I got into it - the story boarding, the composition, the missions! I love the vital nature of attempting to communicate something on celluloid with my best friends.
How long did it take you to write Mary Mary?
Two years I believe! I'd never written a narrative script so it felt like a huge, spooky mountain to scrabble up. I asked for a lot of help, did courses, took myself on regular solo (self-funded self-initiated) writing retreats. Sometimes I hated it, sometimes I loved it. My darling producers guided me to keep telling the most authentic version of the story. My friends encouraged me. I kept asking myself, 'do you love it?' - I wanted to write something with the sorts of images and moments that I would love - so I attempted that with as much courage as I could muster.
How did the Someday Stories initiative help get your film made?
Their unwavering support got the film made. Besides the money they gave us, they offered deadlines (essential), mentorship (film would not have been what it is without!) along with consistent trust and encouragement that we would complete this big little film. They bent backwards to support us all the way.
Was the mentoring and script support valuable? In what ways?
Michelle Savill (Millie Lies Low - director), was my mentor and she is the bomb. The biggest gift she gave me was access to trusting myself as a new director. There are so many elements to be aware of and make decisions about as a director and she was this steady force I could ask any question of. She also had a big hand in some edit suggestions that made the film that much stronger. As for the script, Fiona Samuels and Brita McVeigh (legends) both offered me reflections and questions that led me into much richer territory for the film. It's amazing how a considered question can shift a moment and embolden a story.
Your film is based on your grandmother's story. How did it feel to make a film about something so close to your own family?
The best part of this process for me was interviewing my Grandma, Annetta, across two days at her home in Raglan. And throughout the writing process, filming and release of the film I ensured she was folded in creatively and that she felt confident in the story and how we were telling it. Sometimes I was worried that it was too intense, or triggering, but as soon as I checked in with her I was re-grounded in the power of telling her story. Undoubtedly, the film had a lot of love poured into it because it came from our Whānau, and the crew respected and honoured that beautifully.
If your grandparents are still around, interview them.
What do you think this story, set in the 1960s, can say to audiences in 2022?
My Grandma did the most amazing speech at the Wellington cast and crew screening where she reminded the room that unfortunately this story is still relevant today. The film holds a discomforting mirror up to the global climate of backwards laws on reproductive rights, and begs for reflection, and action. In not having autonomy over their bodies, the danger women are subjected to is so significant. It's a scary time and it's an all too common story.
How did you find the filmmaking process?
Rich relationships with each team member was the real heart of this process. I got to work alongside a lot of old, trusted, loyal and talented mates. Along with new, just as genius ones! I took the time to build the trust and shared creative language with the core crew, something instilled in me by my mentors Teina and Ngapaki Moetara of Araitepo (a tikanga Māori high performance leadership program). The team made the process, and I celebrate them for their power and brilliance and generosity.
Do you have plans for more films?
I have something cool cooking that is set on the Desert Road… and I have a special film to finish about my Dad.
I also had an impromptu coffee meeting with 'Don't Shoot Films' this morning (Frankie Berge, Samuel Austin) and we were ruminating on our next Super8mm short - set to be our greatest yet! So, yes. More films please.
And most importantly, where can we see Mary Mary?
Mary Mary written and directed by Ella Gilbert can be viewed directly through Someday Stories' website, Facebook, YouTube, and Vimeo
It is also available to stream via PlayStuff, RNZ and Whakaata Māori On Demand