Yuk King Tan • 18 September 2018
New Zealand and Hong Kong-based contemporary artist Yuk King Tan explores the intersection between culture, work and identity. She is currently installing The New Temple - I give so that you may give, I give so that you may go and stay away at Te Papa in Wellington. Here she shares some of the artists that inspire her work.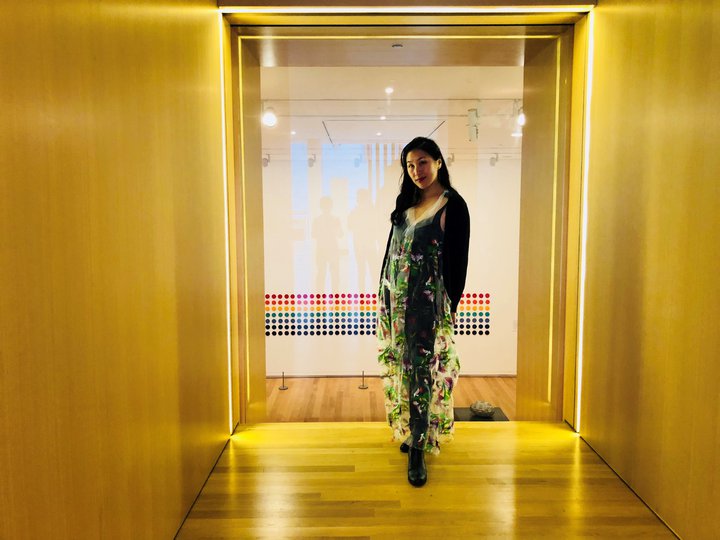 Good documentaries are a vivid intersection between film, journalism, thinking and sensation.

The documentaries I have found most fascinating have made me rethink art and how to create and organise images within narratives. The film The Gleaners and I by Agnes Varda is such a beautiful, fascinating and moving experience that it became a direct inspiration for one of my most exhibited artworks, the installation and performance video about Hong Kong called Scavenger.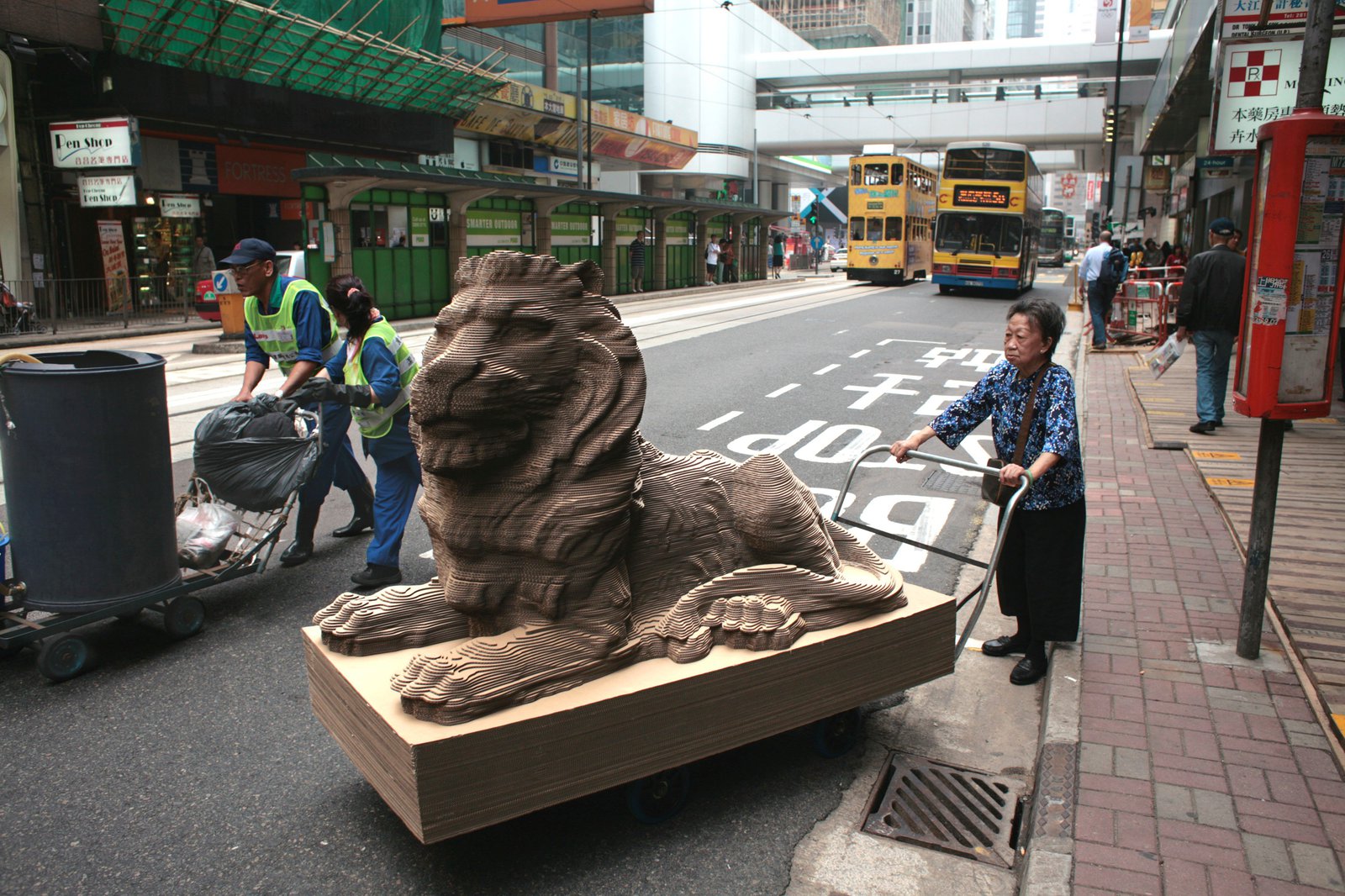 Scavenger by Yuk King Tan, video still courtesy of artist
Agnes Varda's lyrical and transportive documentary is an analysis of historic and modern day collectors that gather the disused and discarded. It's a sharp-eyed film that is both poetic and conceptual. By framing the Impressionists' glowing paintings on agricultural female labourers gathering the leftover harvest, next to modern day fringe-workers who ingeniously reuse abandoned fridges and urban debris, the film touches on the economics of scale and the shifting systems of value or disenfranchisement.
Her intimate and penetrating gaze lets one see the humour and humanity in the film's contemporary subjects, many of whom are shown in a hard scrabble to survive in an age of mechanisation. It's also revealing and honest that she implicates her own work as a 'gleaner' artist: the filmmaker who finds a cinematic voice by scavenging other peoples stories and blithely rearranging culture by cutting and splicing footage.
"I find the act of travel useful in stimulating ideas, especially within an enforced stationary position."
-
While Agnes Varda uses a loose narrative structure within fresh cinematic devices, Lithuanian filmmaker Jonas Mekas is often called the originator of the avant-garde art film because his work can withdraw completely from a traditional story structure and become a filigree-like string of captured recognitions.
You don't necessarily have to watch a Mekas film, it's interesting because the audience seems to be allowed to drift in-and-out of the snippets of memory, dream and found footage, like the best kind of subconscious wunderlust that's useful for an artist. Mekas' films can be hours long, culled from found-footage or past diaristic reels that can inspire profound thought, boredom, intense remembrance or just the quiet contemplation about the beauty of the moving image. I find the very nature of his films to be inspiring from their puckish Paul Klee ability to cinematically take 'a line for a walk' and also because viewing of a five-hour film can lead to an enforced jumpstarting of ideas – like travelling on a train or the act of meditative act of sitting in a darkened lecture hall.

Two contemporary artists, Haegue Yang and Lee Bul, are practitioners I find always compelling and as I know them personally I always look to the development of their work as important and compelling. Haegue Yang's work deftly shifts between writing, film and installations and her "linguistic and didactic process" re-examines the materiality of everyday artefacts in surprising alluringly odd juxtapositions. Lee Bul's early performances altered the landscape of Asian feminist practise and were a radical look on the female body within consumerism, commercialisation, beauty and the markers of kitsch. Her art practise has been a visual rollercoaster that marked out the history of South Korea within expanding science-fiction sized immersive installations.
Starting 2014, the Umbrella Movement was the most sustained and dramatic longterm action in the recent history of Hong Kong. The movement changed the political structure of Hong Kong irrevocably. I documented the protests from the start of the occupation until its end years later. In photographing and interviewing the movement; classrooms; exhibitions; formation of the 'Umbrella University' and a huge urban encampment on the streets by thousands of students and workers, I documented what was one of the most creative and challenging times in Hong Kong's recent history. Many define Hong Kong's social structure as what came before, or what is left after, the Umbrella Movement.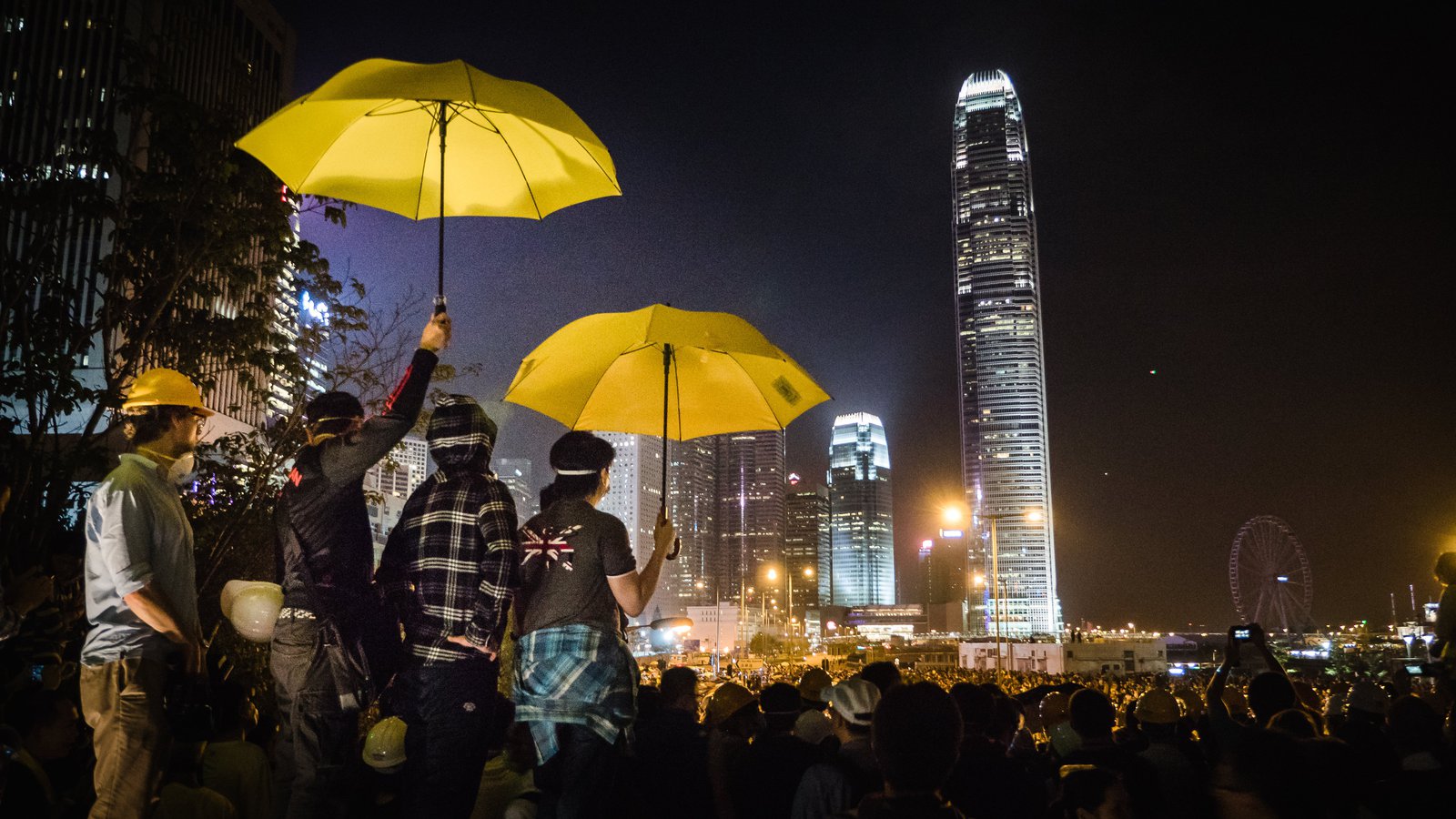 Hong Kong Umbrella Revolution, image courtesy Wikimedia Commons
Lastly, a touchstone and inspiration will always be the dynamic sculptor of time and space, Roman Signer. I've installed firecrackers in London at Camden Arts Centre or made an enjoyably loud series of flash explosions for the MOCA in Los Angeles, but Roman Signer was the first artist that showed everyone that anything was possible and permissible in the violent act of creation.
Yuk King Tan is a contemporary artist living and working in Auckland and Hong Kong. Past major solo and group exhibitions include the Camden Arts Centre in London, Museum of Contemporary Art (MOCA) in Los Angeles, Kunstverein in Hamburg, Wellington City Gallery, New Zealand, and the Hong Kong Arts Centre.