5 March 2020


Kinley Salmon, author of Jobs, Robots & Us, will discuss the future of work in Aotearoa at his Festival event on Thursday 12 March. The NZ born economist, now based in the United States, asks what AI and automation could do to our workplaces, education system, and domestic lives.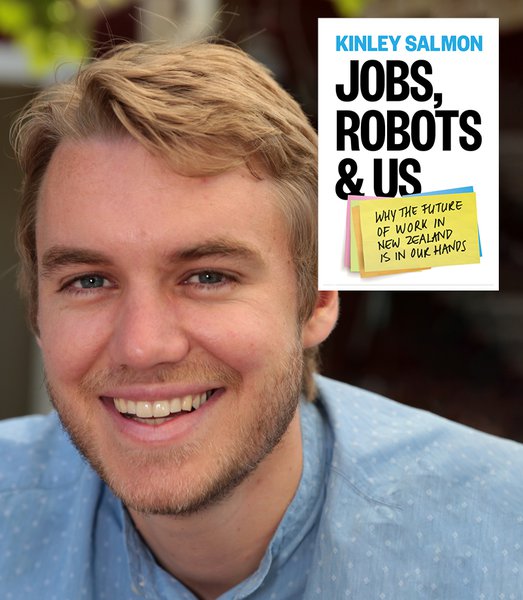 The first book to capture my imagination was …
Bow Down Shadrach by Joy Cowley.
The books that saw me through my childhood were ...
Hah, like many, I was a pretty avid reader of Harry Potter. I also really liked the Hatchet series by Gary Paulsen, and when I was younger, I read a lot of the Uncle Trev stories by Jack Lasenby.
My favourite book of 2019 is …
I'm not sure if it counts as it was published in 2018 but I read it in 2019… The Overstory: a novel by Richard Powers. It's a fantastic novel about the beauty and importance of nature that gradually weaves together the lives of people and trees.
The fictional character I'd most like to be is …
Alexander Rostov from A Gentleman in Moscow by Amor Towles, for the way he learns to find joy in life pretty much no matter the circumstances.
The author I'm most likely to binge-read is …
Zadie Smith.
The book I'm recommending to a friend is …
Recently I've been recommending Pachinko by Min Jin Lee which is an epic novel about multiple generations of a Korean family in Japan.
My favourite film adaptation of a book is …
I'm one of those people who having read a book I like, tries to avoid the film adaptation. And vice versa.
I really enjoyed Hidden Figures about the African American women behind some of NASA's big successes (but I have to confess I only saw the film; I haven't read the book).
The last literary event I attended was ….
The Auckland Writers Festival.
One dead author I'd like to have met is …
Katherine Mansfield.
A line or two of writing I just really love is …
Where is she? I keep on asking
if your eyes disappear.
How long she's taking! I think, and I'm hurt.
I feel poor, foolish and sad,
and you arrive and you are lightning
glancing off the peach trees.
From the poem 'Amor' by Pablo Neruda
The books on my bed side table right now are …
I like real books but I travel a lot for work and so many of my 'soon to be read' books are on my Kindle.
That said, on my actual bedside table are:
Africa Beyond the Mirror by Boubacar Boris Diop and Tiempos Recios by Mario Vargas Llosa
Recently added, or waiting to be read on my Kindle, are:
Welcome to Lagos by Chibundu Onuzo
The Narrow Corridor: States, Societies, and the Fate of Liberty by Daron Acemoglu and James A. Robinson
The Land Between Two Rivers: Writing in an Age of Refugees by Tom Sleigh.