Dr Rebecca Rice • 1 November 2018
Dr Rebecca Rice, curator of Te Papa's upcoming Terracotta Warriors: Guardians of Immortality exhibition, shares a personal account of the journey to bring some of China's greatest treasures to New Zealand.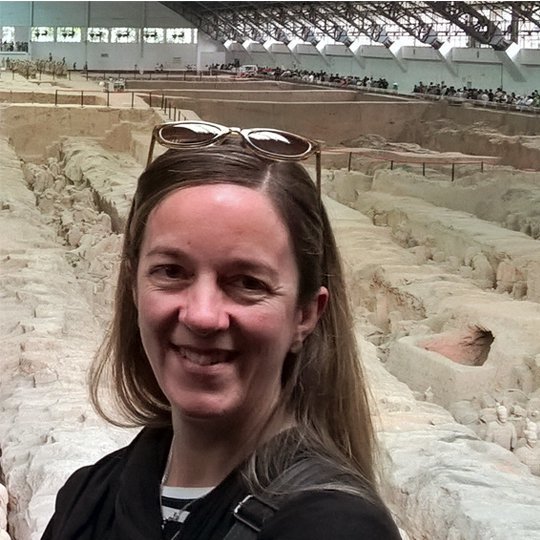 The first time I visited Xi'an and the Terracotta Warriors was in 2007. My partner and I were nearing the end of a six-week back-packing jaunt on public buses and trains around Northern China. We were 'intrepid' travellers and took local transport to Lintong, 25km east of Xi'an, home of the Terracotta Warriors. It took two hours to get there on a crowded bus on dusty back roads. It didn't really matter how long it took. The warriors weren't going anywhere.
By the time we arrived at the museum it was late afternoon and the crowds had dispersed. It felt like we had the place to ourselves. There they were, patiently waiting, standing four by four, shoulder to shoulder, soldier to soldier. Silently bearing witness to another time. I took one photo. We returned to Xi'an and feasted on the sights and sounds of China's ancient capital.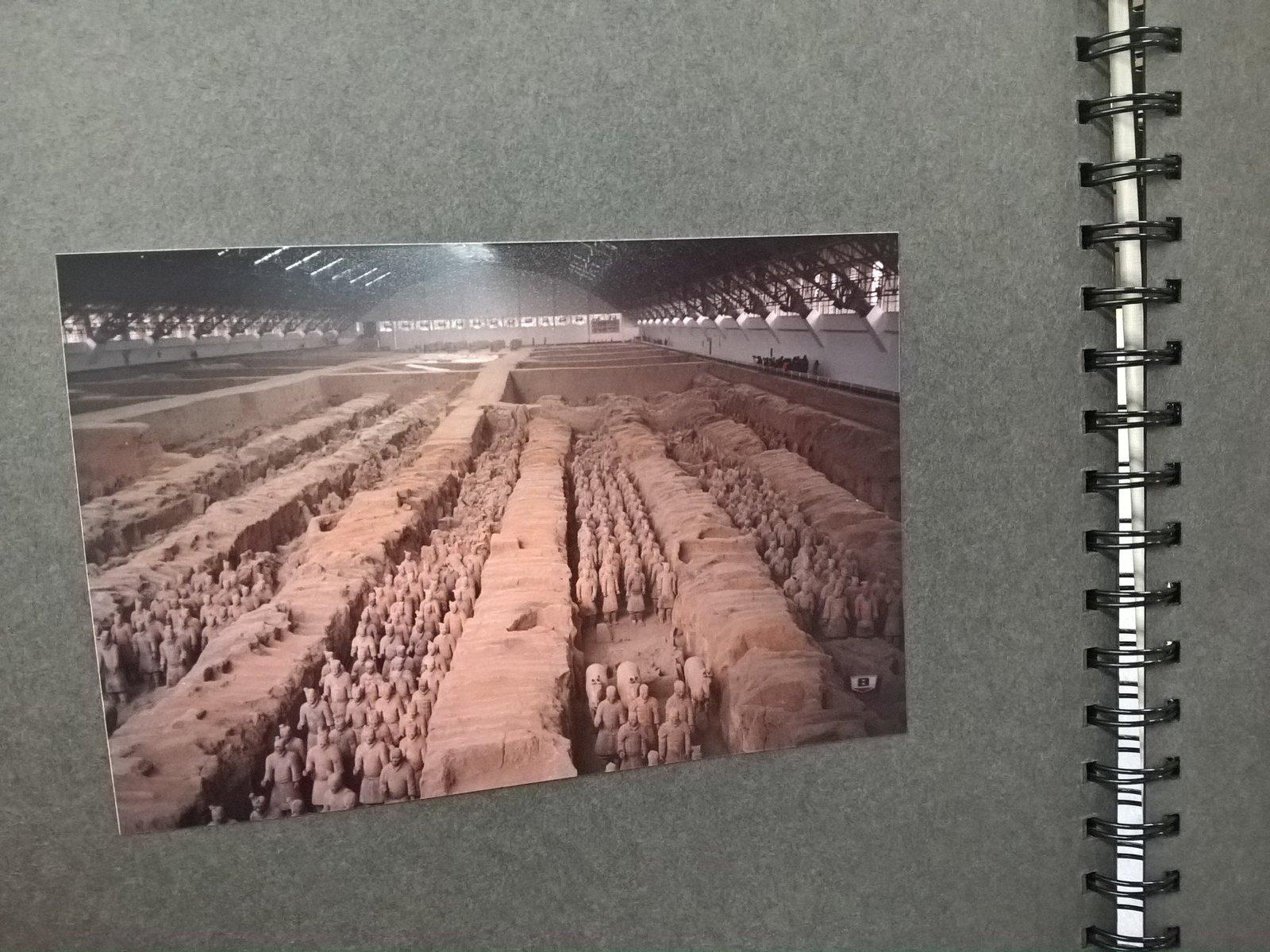 The only photograph I took of the Terracotta Army in 2007.
Despite this fleeting introduction, the spectacle of Emperor Qin Shi Huang's famous terracotta army stayed with me. So when, a decade later, I was asked if I was interested in working on an exhibition to bring the Terracotta Warriors to Te Papa, there was only one answer.
In May 2017 my manager, Charlotte Davy, Te Papa's Head of Art and I travelled to Xi'an to research possible objects for the exhibition. Our first stop was the Terracotta Army and Horses Museum. The complex had grown over the preceding decade, as had the crowds. I was struck by the sound, as groups of national Chinese and other tourist groups were rallied under colour-co-ordinated flags. We made our way through the spectators, standing four-deep, to see the warriors laid out in their impressive formation.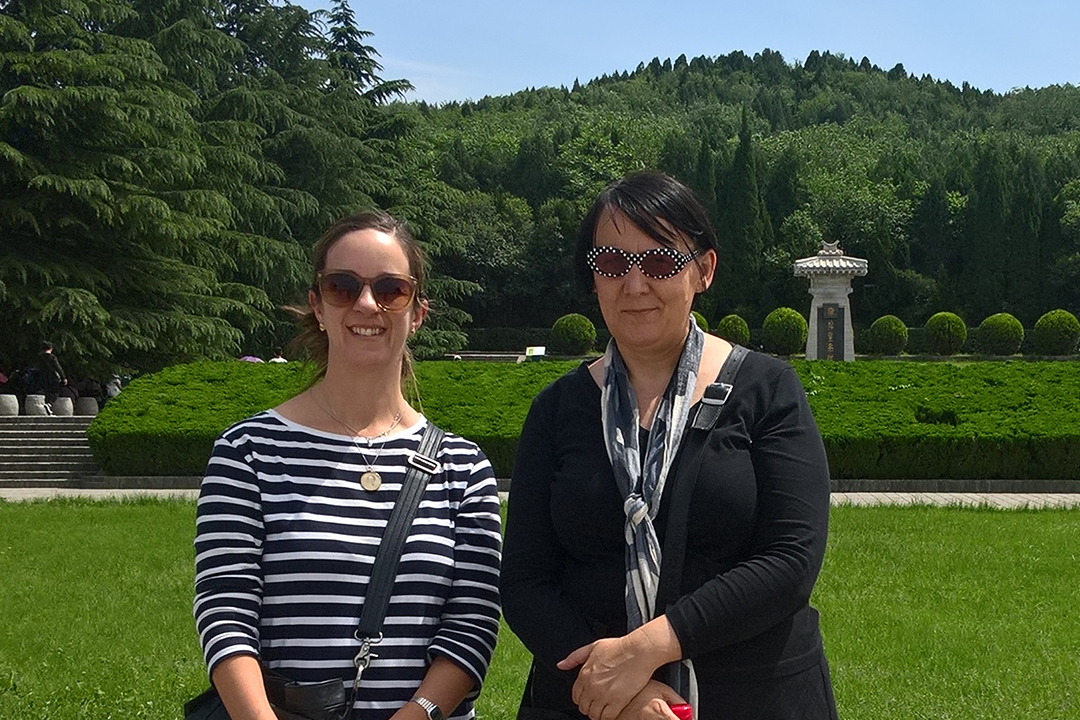 Charlotte Davy, Head of Art, and Rebecca Rice, Curator, in front of the First Emperor's tomb mound, May 2017. Historical records tell of rivers of flowing mercury and constellations of precious stones in the First Emperor's tomb which has not, and may never be, excavated.
Image: courtesy Rebecca Rice
The army en masse is extraordinary, but what impressed me during this visit was the opportunity to view individual warriors, standing to the side of the pits in display cases. Seeing the figures up close, observing the folds of their clothing, the tread on their shoes, their elaborate hair and anatomical detail, was breath-taking. This, we thought, was the experience we wanted to be able to offer visitors to Te Papa.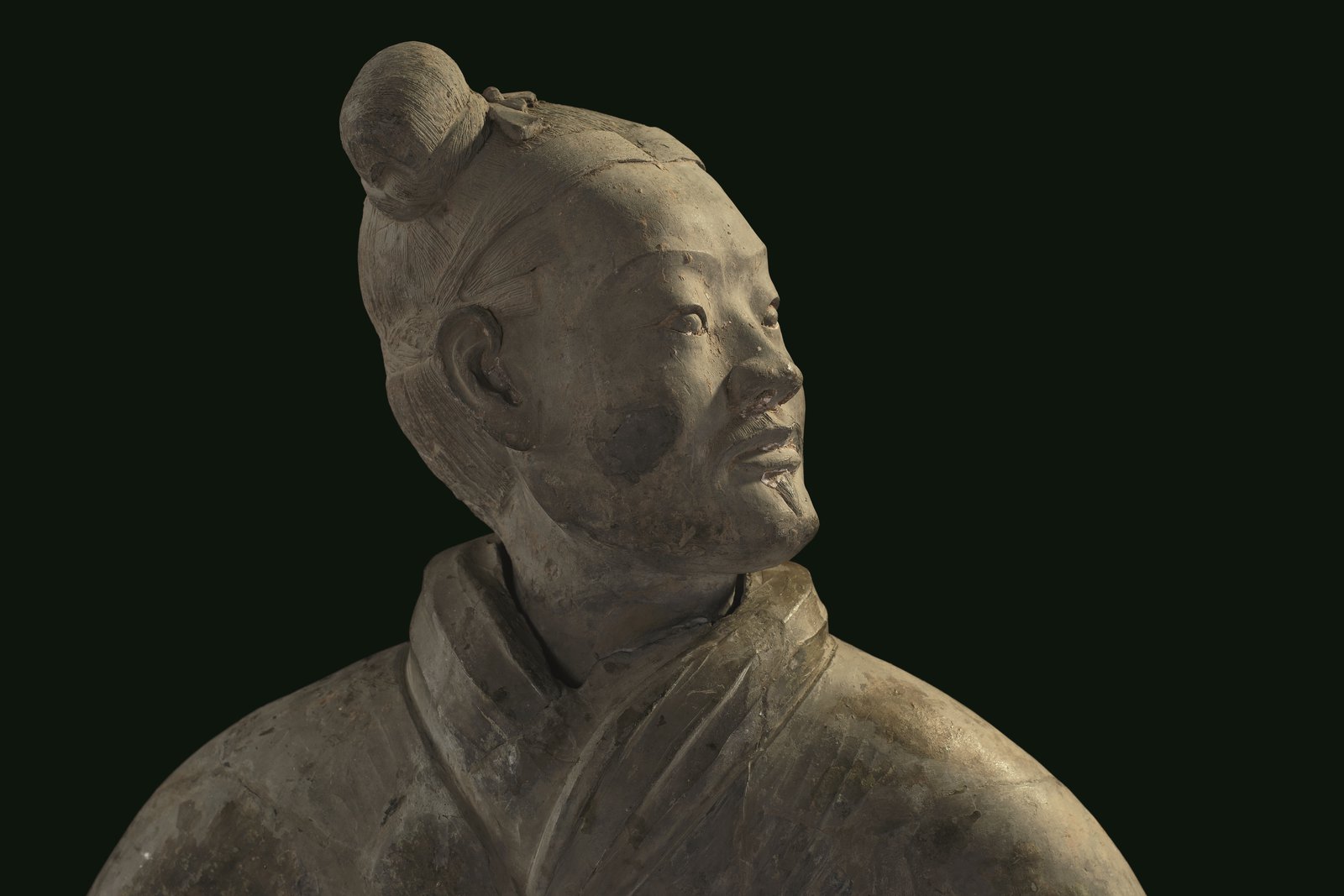 Standing Archer, Qin dynasty (221-206 BCE), Pottery. Emperor Qin Shihuang's Mausoleum Site Museum.
Image: Qiu Ziyu, courtesy of Shaanxi History Museum.
We also visited mausoleums and museums around Shaanxi province (this time with a driver and a guide!), viewing bronzes, jades and ceramics – ancient treasures that have survived over 2,000 years. Of these treasures the Han dynasty armies at Xianyang and Han Yangling came as a complete surprise to us. There we saw row upon row of miniature pottery soldiers, well-dressed maids and a menagerie of animals. We have been lucky enough to secure a selection of these stunning objects to accompany the Qin dynasty Terracotta Warriors to Te Papa.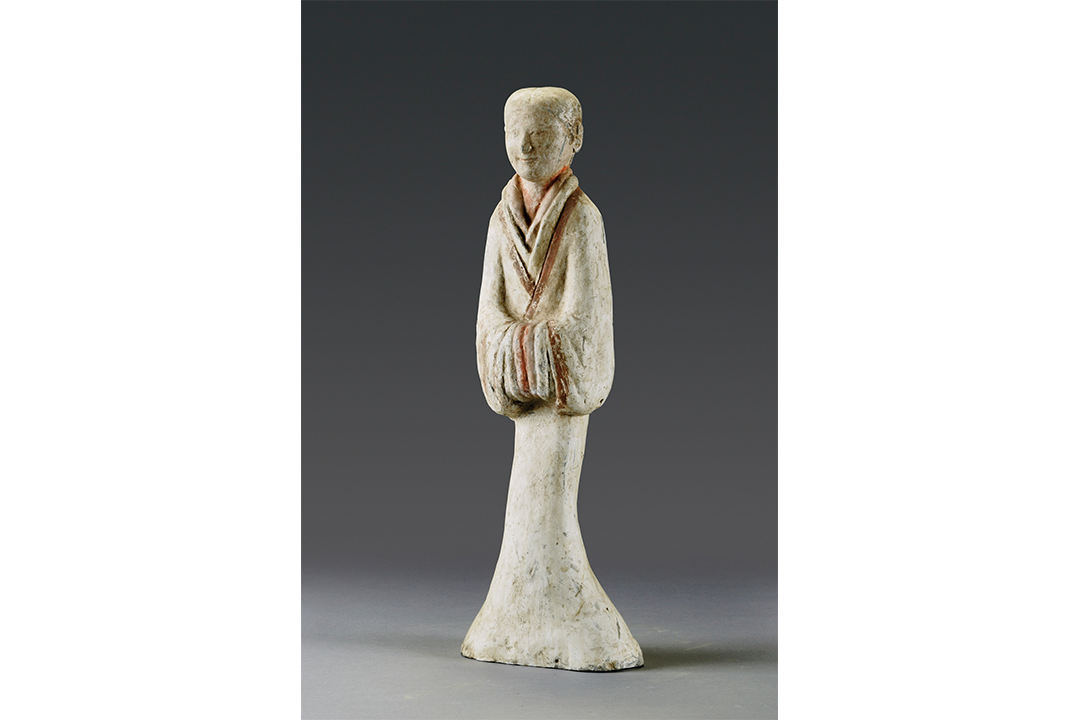 Painted maid from Changling Mausoleum, Western Han dynasty (206 BCE- 9 CE), Painted pottery.
Image: Qiu Ziyu, courtesy of Shaanxi History Museum
Since returning from our trip we've worked with our colleagues in Xi'an and the team at Te Papa to develop an exhibition that will showcase the rich culture of ancient China. It is exciting and a great privilege that over 160 exquisite objects, including eight warrior figures and two horses, will make the journey from China to New Zealand. Interestingly, only ten of the ancient category 1 items, namely the terracotta warriors and the horses, are allowed to be loaned at a time.
We're certain that these incredible works of art along with our team's creative exhibition-making, will bring the story of the Terracotta Warriors alive and in doing so will allow our visitors to bear witness to another time and place.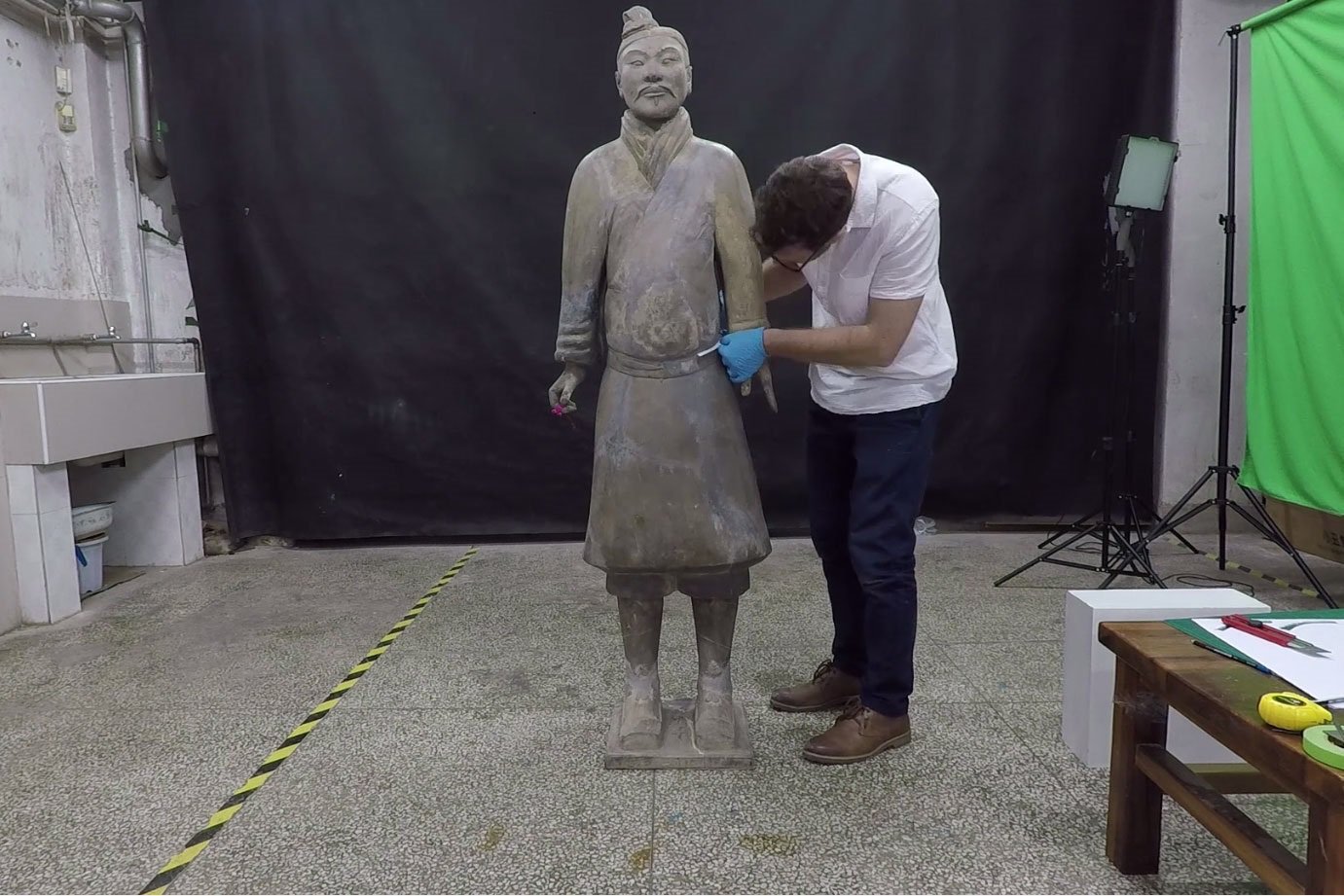 Callum Strong, Te Papa mountmaker, measuring the unarmoured warrior in Xi'an. Callum and team of preparators at Te Papa will be making individual mount supports to make sure the objects are safe during their time on show at Te Papa.
Dr Rebecca Rice is an art historian and Te Papa's Curator of Historical New Zealand Art.