30 July 2021
Returning for its third outing, Te Tairāwhiti Arts Festival is all set fill Gisborne with dance, music, kapa haka and visual art over ten creative and colourful days and nights from Friday 8 to Sunday 17 October 2021. Featuring more than 200 artists and performers, here's just a glimpse at some of the extraordinary kōrero, taonga and talent on offer across the programme.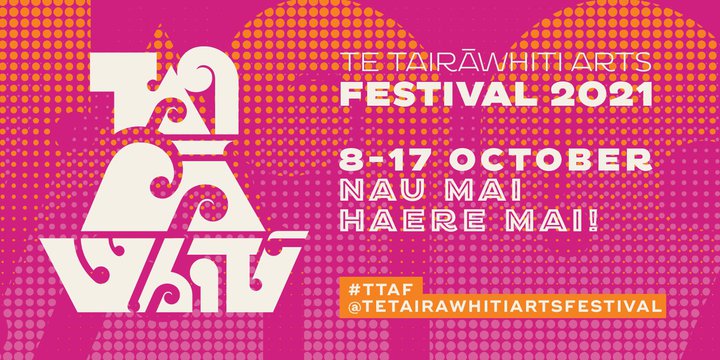 Festival CEO and Artistic Director Tama Waipara says of the third Tairāwhiti Arts Festival, "The Festival is a celebration of, and a space to highlight, the abundance of creativity in Te Tairāwhiti. The people of this place and the connection to whenua is what makes the experience so special and unique. Our festival shines a light on what our community is capable of – who we are here and why we are here. And in knowing who we are at home, we can welcome others with open hearts, saying, 'Come for the kaupapa and, while you're here, experience something new, step outside yourself, and learn something about our region.'"
Check out a few top picks below or explore the full programme here.
Homecoming Queens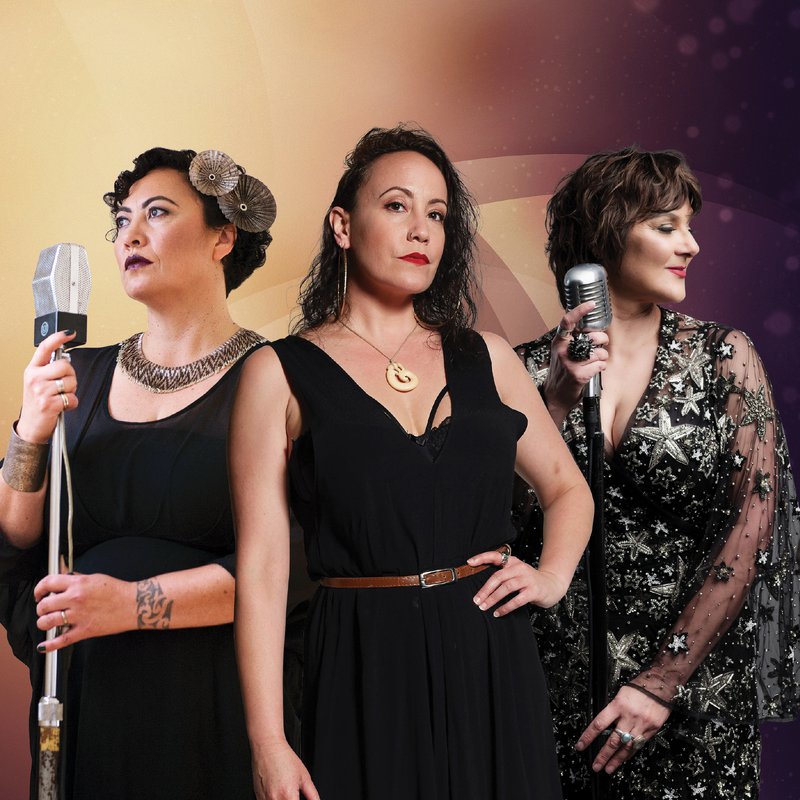 You can take the girl out of Gisborne, but you can't take Gisborne out of the girl!
Homecoming Queens Jackie Clarke (MNZM), Sandy Mill and Bronwyn Turei know that a life in the arts can take you all over the world, but all roads eventually lead to home.
These songbirds bring home a brand-new show inspired by memories of growing up in Gisborne, as well as cherry-picking songs from their illustrious and varied professional careers.
Bronwyn Turei the actor, Jackie Clarke the entertainer and Sandy Mill the songstress have carved out very different paths in the performing arts but share a love of singing, harmonies and a good groove.
Backed by a stonking band of local luminaries, expect a concert filled with soul and vocal artistry running on the unstoppable twin engines of love and home. Witness the phenomenon in concert and come party with our Homecoming Queens!
Catch Homecoming Queens at the Lawson Field Theatre on Wednesday 13 October.
Te Ara i Whiti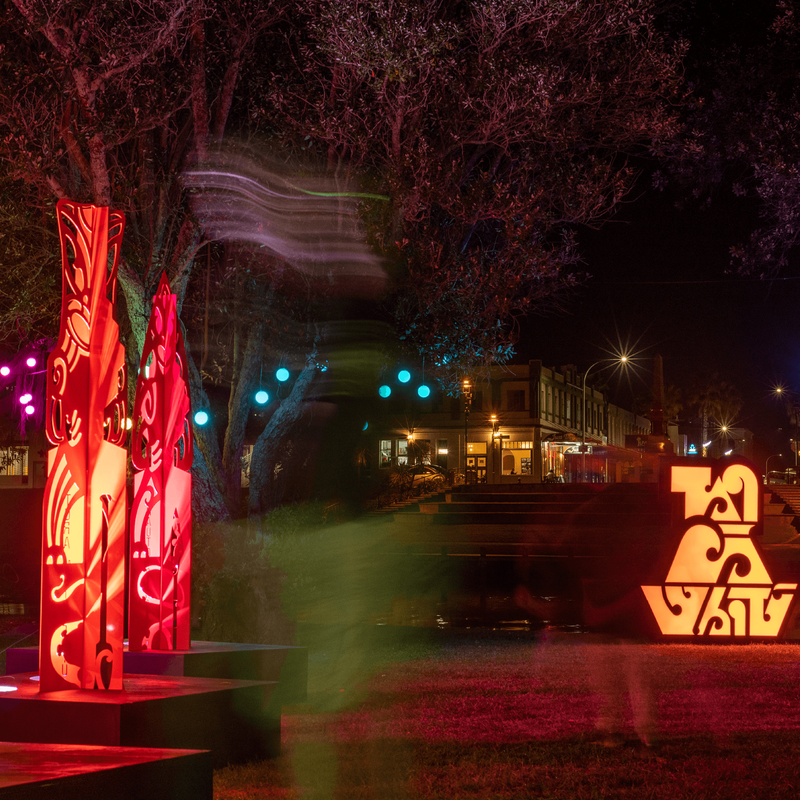 Image: Artwork Tāwera Tahuri
Te Ara i Whiti explores a journey of legacy, showcased through contemporary Māori art.
This enchanting multi-media installation of light sculptures, projections and artworks celebrates our connection to place. Whether the first rays on Hikurangi or the creative genius of Rukupō – the broad expanse of our region is famed for our special relationship to light. Te Ara i Whiti is a celebration of that whakapapa.
This year the trail is set to breathe life into Te Tairāwhiti once more, with guest curation by multi-disciplinary artist and curator, educator and practitioner Melanie Tangaere Baldwin and created by artists connected to our rohe. With the support of award-winning lighting designer Angus Muir, a swathe of spectacular illuminated surprises, large-scale sculptural installations, and projections await those looking for a provocative, playful and whānau-focused evening out.
Exhibiting artists for 2021 include Chevron Hassett, Erena Koopu, Fiona Collis, George Watson, Huia Edmonds & Ngaire Tuhua, James Tapsell-Kururangi, Johnny Moetara, Maungarongo (Ron) Tekawa, Steve Gibbs, Taupuruariki (Ariki) Whakataka Brightwell, Tāwera Tahuri, and Terangi Roimata Kutia-Tataurangi.
Te Ara i Whiti will run for the length of the Te Tairāwhiti Arts Festival (Friday 8 - Sunday 17 October).
Ka-Shue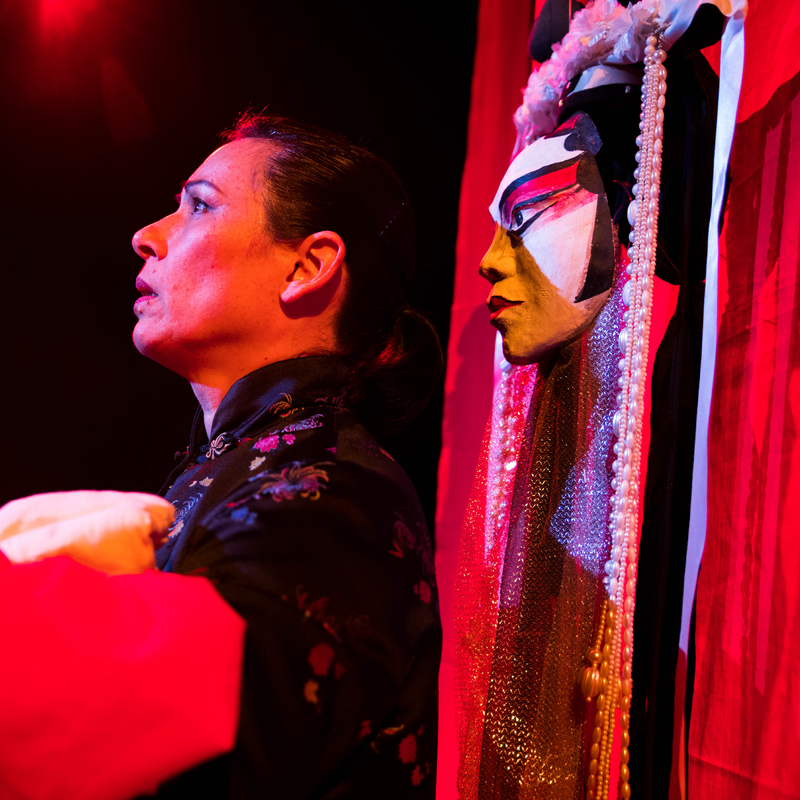 Image: Dianna Thomson Photography, TAHI Festival 2020
Ka-Shue (Letters Home) is an epic story of love, laughter, and loss, spanning one hundred years between China and New Zealand through the eyes of a Chinese family struggling to resettle in Aotearoa.
'Ka-Shue' is a Cantonese phrase for 'Home Book' a poetic term covering everything about home, love, and alienation. Life is experienced through the eyes of three generations of the Leung family as they are swept across continents and time; the Second World War, the Tiananmen Square massacre of 1989, and the infamous buried history of the Poll Tax in New Zealand, £100 levied against Chinese migrants only (1896 to 1944).
Ka-Shue (Letters Home) encompasses a broad sweep of the political events between the two countries as a backdrop for the personal dramas of the five characters played by one actor.
See Ka-Shue at the Evolution Theatre on Friday 15 and Saturday 16 October. Performed in English and Cantonese.
Te Tairāwhiti Arts Festival runs from Friday 8 to Sunday 17 October 2021. Explore the full programme here.