30 October 2020
Celebrating its twentieth year in 2020, the Kāpiti Arts Trail is an annual celebration of art and artists. The self-guided tour takes place over two weekends (7-8 and 14-15 November) and invites arts lovers into galleries, studios and more to explore the region's diverse range of arts and crafts. We get the low down from three of this years artists Studio Reset, Micheline Robinson and Lisa Call on beeswax and Beethoven.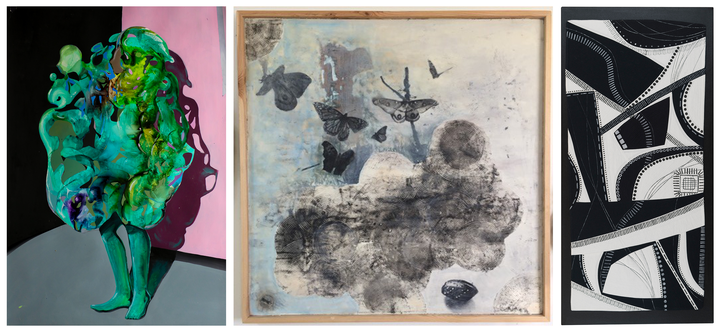 Studio Reset
How did you get into making art?
About 5 years ago, I had a total reset on my ambitions, and I envisioned living a simpler life, one that I was already very accustomed to, having grown up on a farm in rural Vancouver, Canada. . . I moved to the country, started growing my own food and changed how we ate and lived as a family completely. Studio Reset was born…. getting back into my art was a natural progression as a change towards a better livelihood. I work as a full-time artist/fine art portrait photographer and am working towards my certification in Beekeeping. I hold encaustic [hot wax] art workshops in my studio alongside my Airbnb in Te Horo, Kāpiti.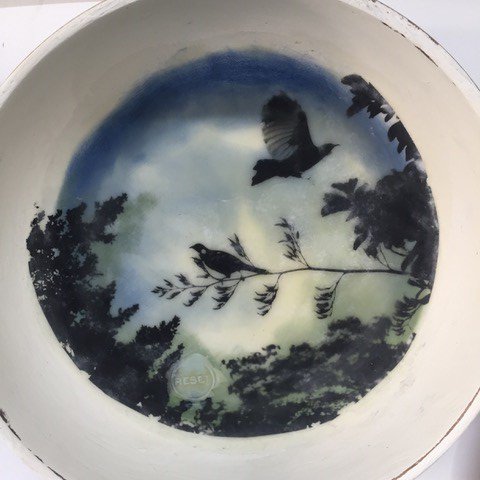 Fly Forward, Studio Reset, encaustic on up-cycled wooded tray, $340
What is your style and how it has developed?
My style is eclectic and unique. I find that my collectors appreciate what I do and the time it has taken me to get to the stage of where I am completing a full circle in my artwork through my sustainable practices and organic processes. Beekeeping is a rather new ambition and one that I am very much enjoying. The beeswax is collected, cleaned and made into an encaustic medium which I use as paint via heat guns and blow torches. From there, I add my pigments, inks and photographs, building up the liquid layers that add depth and translucency to the encaustic artwork. This is actually a very old, ancient technique that dates back to the Egyptian fayam mummy portraits during the roman rule of Egypt. I may have changed things slightly but the idea of it is much the same. People always ask me about the longevity or fragility of the artwork, not realising that these portraits date back to 40 AC. Due to the natural qualities of beeswax (antimicrobial, blocks UV, seals and waterproofs), the paintings are frequently very well preserved, often retaining their brilliant colours seemingly unfaded by time.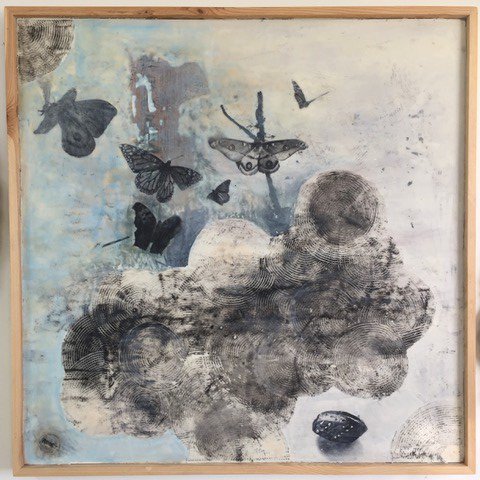 Lifecycle of a Butterfly, Studio Reset, encaustic on an up-cycled German pallet, $1200
Tell us a little bit about one of your artworks
"Lifecycle of a Butterfly" is an artwork very close to my heart and shows the whole process and magic behind metamorphosis. As always, all the images in the artworks are photographs done by me but manually layered 1 by 1 to tell a story. Our pollinators are under much stress by worlds farming practices and the sprays we use. This is my ode to them — our bees and butterflies and hopefully my statement to a more organic approach to our future farming practices. This is a truly beautiful artwork and I hope it finds a very special home during the Kāpiti Arts Trail.
You can browse Studio Reset's work online here or view at the Kāpiti Arts Trail.
Micheline Robinson
How did you get into making art?
I was exposed to the arts from birth. My parents sang and performed on the stage and before my next sibling came along, her bedroom was their painting studio filled with oil smells. I subsequently never considered another career. By age 4 I was determined to one day play Beethoven's 5th symphony on a large church organ and to write, compose, paint and perform plays (I settled for painting instead when I realised I didn't like the attention).
I have now been painting professionally for over 20 years after pursuing a concentration arts program in secondary and film animation and fine arts at Concordia and Ottawa University in Canada.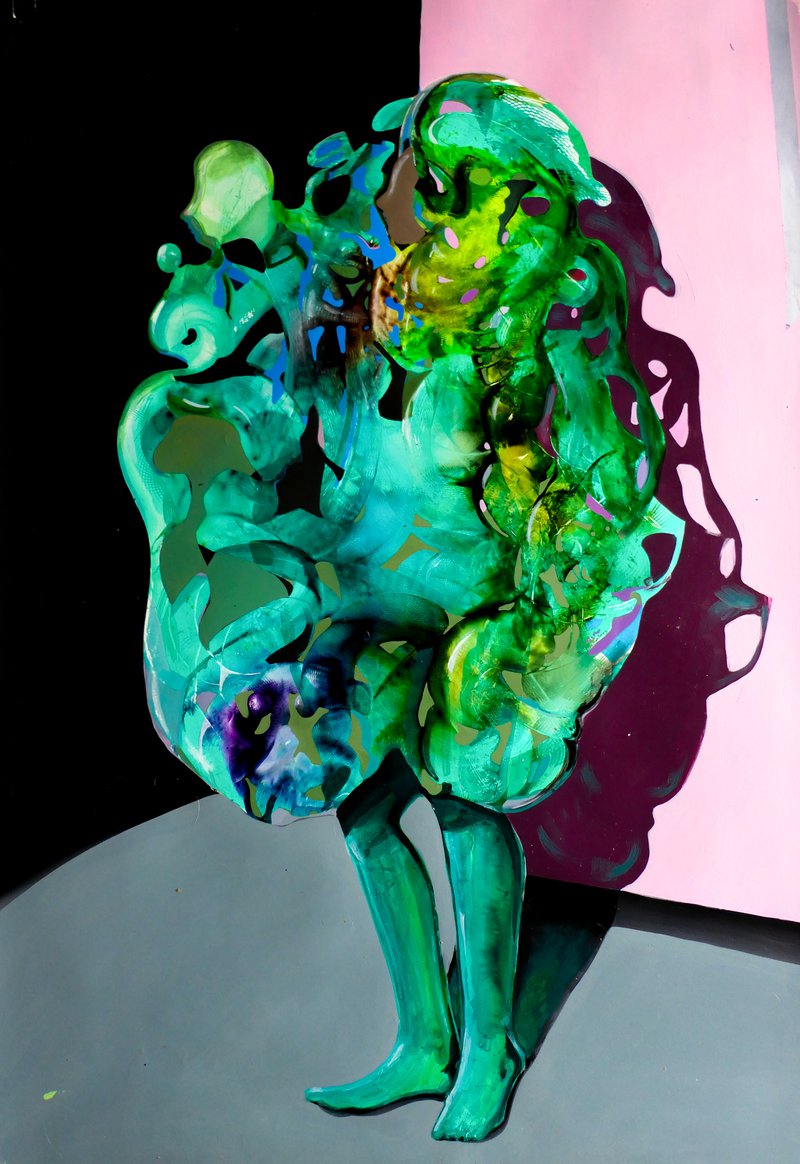 She was a Juggler, Micheline Robinson
What is your style and how it has developed?
I create large hand-painted contemporary 2D sculptural glass-like paintings which have a trompe l'oeil element to them. My own unique style straddles figuration and 3D abstraction and is informed by exploration into themes of identity, morality, sexuality and meaning.
At its base, much of my work is conceptual (as my University art education was concept based) but it is also interested in painterly aesthetics. It tries to push visual boundaries of sculptural 3D space whilst still being rooted in the traditions of landscape and portrait painting and follows 17th century rules of composition seen in Velasquez and Rembrandt's work. I love juxtaposing transluscencies with strong opaque solid colours, creating optical illusions whilst telling a story and replicating patterns found in nature. The glass-like effect in my works has come through in the last decade as a result of my own experimentation with inks as I find that their translucency conveys light effectively.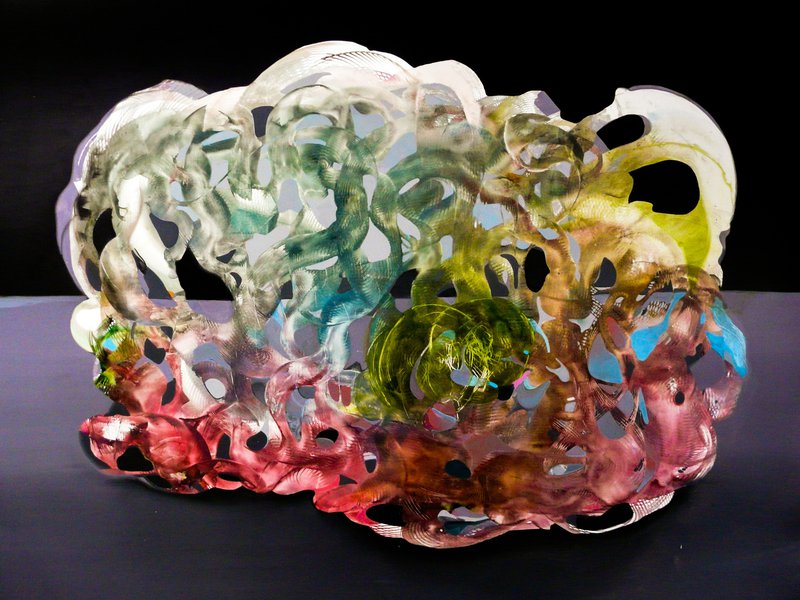 Loneliness, Micheline Robinson
Tell us a little bit about one of your artworks
Each of my series involves research into a concept I want to explore. Last year I delved into the psychological effects of loneliness (as I had experienced it myself through breaking a leg) and each artwork tackled a different aspect of the subject. The main piece, Loneliness, was subsequently chosen as a finalist for the National Contemporary Art Award at Waikato museum in Hamilton. It tried to visually depict wandering firing neurons of the brain looking for external connection in a void space.
Visitors to my studio this year can expect a colourful visual treat of nearly surreal gardens of explosive roses and female forms created during our lockdown.
You can browse Micheline's work online here or at the Kāpiti Arts Trail.
Lisa Call
How did you get into making art?
In the early 1990s I decided to take a break from my technology career to pursue art — a lifelong dream. I have always been drawn to textiles — my mother sewed, my grandmother was a quilt maker — so it was a natural fit to pick up fabric and stitch as my chosen medium.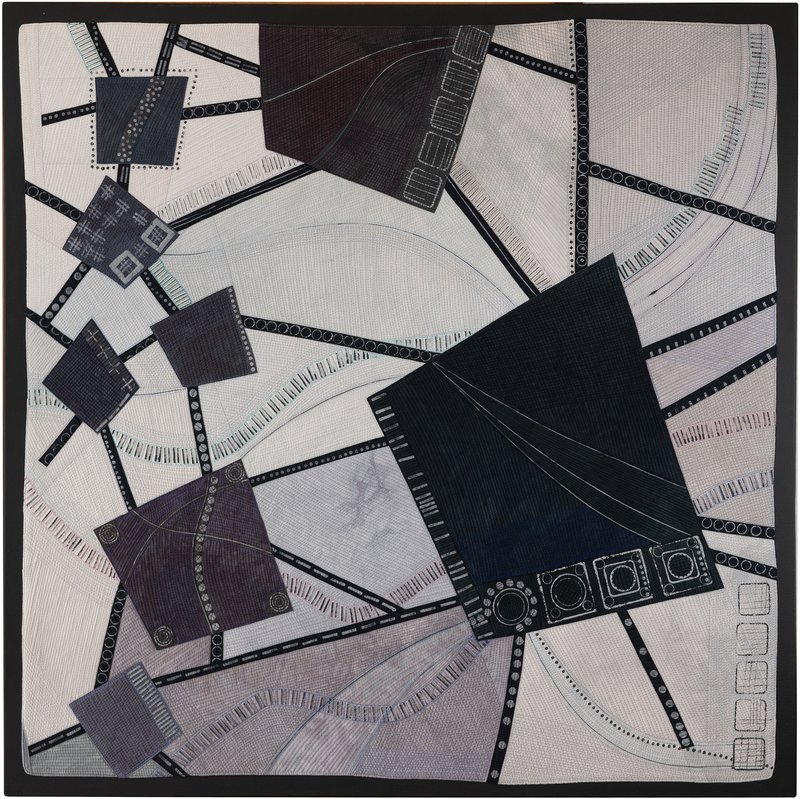 A More Perfect World Than The Universe, Lisa Call
What is your style and how has it developed?
Over the last 30 years I have explored the incredible possibilities of textiles as art, focusing mostly on large abstract colorful compositions made from my own hand dyed fabric. I'm best known for a series of 200 large textiles that explored the notions of walls, barriers and relationships.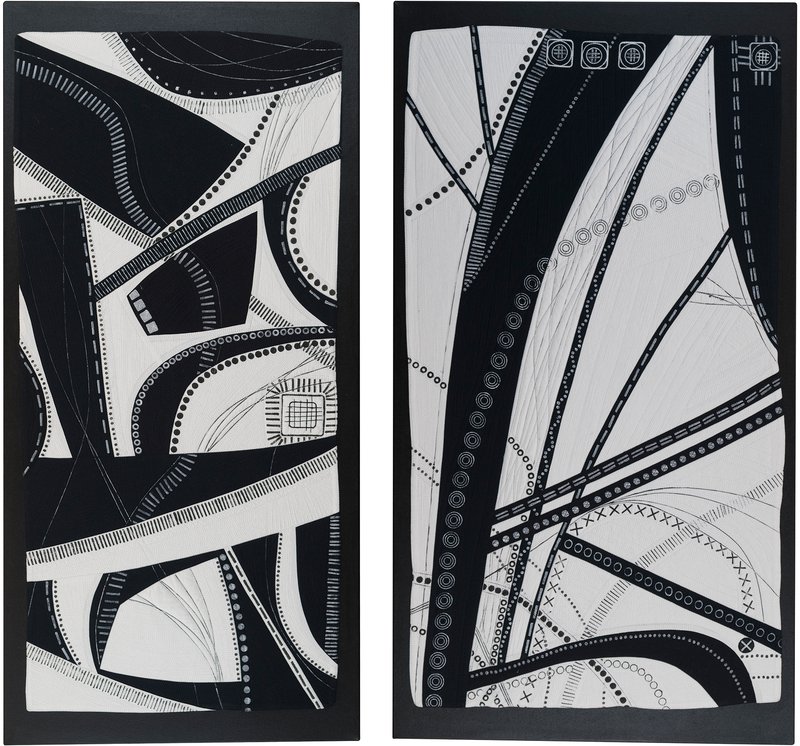 Approximating Certainty and It's Not A Packaged Tour, Lisa Call
Tell us a little bit about one of your artworks
Using paint and stitch to create a layered and complex surface, I am explore notions of music, memory, travel and pattern. What these all have in common? Repetition. Something I've always been drawn to.
The pieces shown here are a part of my music and memory series.
You can browse Lisa's work online here or at the Kāpiti Arts Trail.
Want more art in your inbox? Sign up to our fortnightly ARTicle newsletter here.