5 December 2019
Welcoming local and international writers and thinkers to the New Zealand Festival of the Arts for 'Writers Week' has been a highlight of the Festival programme for more than 30 years. In 2020 we're doing it a bit differently. Instead of a week-long intense experience, writers' events will now run across the full three weeks of the Festival, with a focus on weekend events, complementing the new curatorial model of the Festival. The full writers line-up was announced at Unity Books last Friday, where ARTicle caught up with Verb Director and writers programme manager Claire Mabey to find out what we can expect from the new-look programme.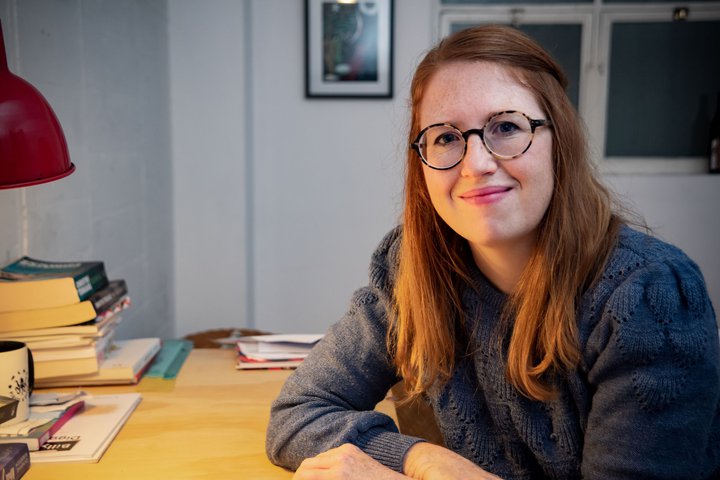 Kia ora Claire. Tell us about the new writers' format for 2020. What's the thinking behind the change?
The format change is a logical one: spreading the writers events throughout the Festival means we're treating writers in the same way as the other art forms in the Festival. Audiences can take in conversations with writers alongside everything else on offer, and get a full Festival experience in 2020.
It also allows us to give more space to the writers — there aren't any programming clashes in 2020, so you can get to more things and take your time to read ahead and savour each one.
At previous writers' weeks there's often been an overarching theme. What themes can we expect to see in your 2020 programme?
I'm personally not a huge fan of theming writers — because for me writers talk about everything and anything. In saying that, there are definite themes that emerge which might tell us things about what is of concern to readers in 2020 … for example gender equality: feminist writers Lindy West, US Youth Poet Laureate Kara Jackson, Lucy-Anne Holmes, Kristen Ghodsee, Marilyn Waring, Ngahuia te Awekotuku and Scarlett Thomas … they're all in the programme and looking at gender quality from different perspectives, in different ways. There's also a clear environmental theme with writers Rebecca Priestley and Sophie Cunningham (who have both written beautiful memoirs) that speak to the universal struggle of people and nature: why is it that while we crave and fundamentally depend on nature, we also try to dominate and destroy it? There's also plenty of memoir in this programme — human stories never get old. They're the stories that stir us in the strange way we relate so strongly to one person's life story. Bart van Es has written an extraordinary memoir/biography that is a holocaust story; Long Litt Woon's book about mushrooming is really about grieving; and Linda Burgess's wonderful memoir Someone's Wife is a book so many will relate to and love.
Run us through your own highlights. Who are you most looking forward to hearing from this Festival?
I am proud and excited to welcome Witi Ihimaera back to the New Zealand Festival of the Arts. He is one of my absolute heroes and he inspired my career with his stories. I'm also eager to hear what Elizabeth Knox has to say when she opens the programme with her lecture — there was no brief I could really give Elizabeth as her mind is one of the most interesting I've ever encountered.
There are a handful of writers travelling to us from overseas who I am just so thrilled to meet — Namwali Serpell is a writer embarking on what I think will be a tremendous career. The Old Drift is simply one of the best novels in a decade of novels and I know she will wow audiences here. Alison Whittaker from Australia is a poet I have long admired and am delighted will be with us.
We're super excited about George Saunders being part of the line-up. But how do you think audiences will respond to him being 'digitally' present? Do you think we'll see more of this style of interview at writers' festivals?
The conversation between Jo Randerson and George Saunders will be illuminating and one to commit to memory — they are both incredibly generous, clever and work from the heart, so this will be very special.
The fact that George is going to be beaming in from New York I think is simply a sign of the times. We have this opportunity to talk to the author of The Brief and Frightening Reign of Phil, which features prominently in the Festival's 2020 programme. George is a very busy person but was so willing to give this format a go for us.
The fact is that climate change and busy lives can make long haul travel to Aotearoa very hard for many around the world. I think we need to make digital events work where they make sense. Hopefully the electric plane isn't too far off but in the meantime I'm all for cutting carbon and harnessing the internet for good!
Will the writers programme have a central point, a home for the three weeks, or will we be running all over town?
You'll be nestling into the Renouf Foyer at the Michael Fowler Centre. It's a relief for us to have a home that we can make our own for three weeks. This is something of a return for the Writers programme as an historic space for the Writers Weeks of the past. The team here are working on a plan to beautify it and make it comfortable, welcoming and primed for listening and connection.
Anything for kids in this programme?
Very excited to be plotting a full day at National Library on Saturday 14 March between 10am — 3pm. We're giving the power to the kids! They will be the ones interviewing authors; they will be sharing their own creative writing; we'll be helping young writers make their own books and hide messages in library books. Authors include UK writer Scarlett Thomas (WorldQuake series); Sacha Cotter & Josh Morgan who created The Bomb, which was the Margaret Mahy Book of the year in 2019; Vincent O'Sullivan a leading historian on the NZ Wars; and Whiti Hereaka who is an incredible writer of novels and plays. There will be a lot going on and there are more announcements to be made — the full timetable and programme will be up at the end of January 2020 so check in on the website!
The Take Five Pass is back! What's the deal there?
This is the best way to see more for less. The Take Five Pass costs $76 and gets you into five of the $19 sessions. It's a great way to make the most of the Festival and the intensity of having such wonderful people here in Wellington over three weeks! They're great presents too … just in time for Christmas.