5 December 2019
The Way Through the Woods by Long Litt Woon is a memoir, a mushrooming handbook, and a vivid account of what it means to be surprised by small things in life. Woon appears in two events in the writers programme in March. She answers our 'Reading Life' Q&A below.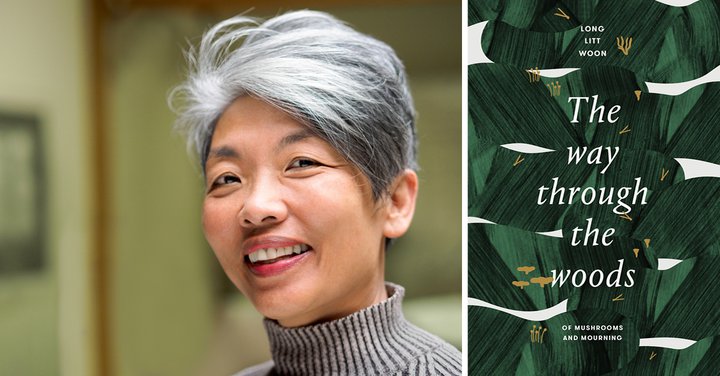 The first book to capture my imagination was probably The Crippled Tree by Han Suyin.
The books that saw me through my childhood were almost all Enid Blyton's books and those of Sir Rider Haggard and Robert Louis Stevenson.
My favourite book of 2019 is Nan Shepherd's The Living Mountain.
The fictional character I'd most like to be is Alice in Wonderland.
The author I'm most likely to binge-read is Isaac Bashevis Singer.
The book I'm recommending to a friend is Nan Shepherd's The Living Mountain.
My favourite film adaptation of a book is The Color Purple based on Alice Walker's book of the same name.
The last literary event I attended was the Georgetown Literary Festival 2019 in Penang, Malaysia.
One dead author I'd like to have met is E.M. Forster.
A line or two of writing I just really love is "Yet often the mountain gives itself most completely when I have no destination, when I reach nowhere in particular, but have gone out merely to be with the mountain as one visits a friend with no intention but to be with him."
The books on my bed side table right now are Celestial Bodies by Jokha Alharthi and Thus Were Their Faces by Silvina Ocampo.
Welcoming local and international writers and thinkers to the New Zealand Festival of the Arts for 'Writers Week' has been a highlight of the Festival programme for more than 30 years. In 2020 we're doing it a bit differently. Instead of a week-long intense experience, writers' events will now run across the full three weeks of the Festival, with a focus on weekend events, complementing the new curatorial model of the Festival. The full writers line-up was announced at Unity Books last Friday, where ARTicle caught up with Verb Director and writers programme manager Claire Mabey to find out what we can expect from the new-look programme.