5 December 2019
Scarlett Thomas was born in London in 1972. Her novels include Bright Young Things, The Seed Collectors, PopCo, The End of Mr.Y, and Our Tragic Universe. Her latest novel, Oligarchy, is set at a girls' boarding school, and is a sharp critique of privilege and power. Scarlett will appear in two sessions in our 2020 Writers programme.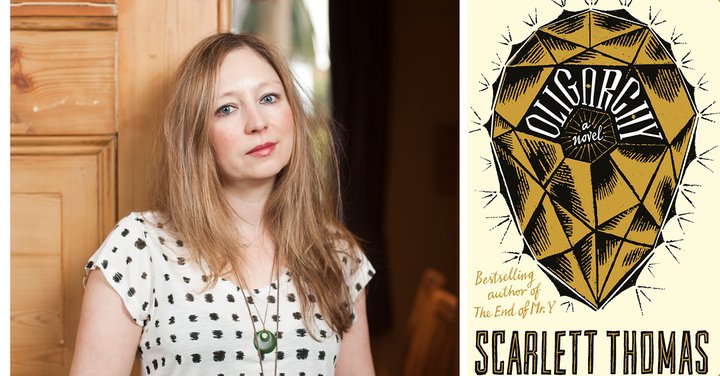 Image: Ed Thompson
The first book to capture my imagination was a dusty old hardback all about the planets and the solar system. I memorised the order of the planets and considered the bigness of things.
The books that saw me through my childhood were Enid Blyton, any boarding school stories, horse books, Judy Blume, Sweet Valley High. I also loved books about how to be a spy or a detective.
My favourite book of 2019 is Isolde by Irina Odoevtseva.
The fictional character I'd most like to be is Cassandra Mortmain from I Capture the Castle.
The author I'm most likely to binge-read is P.G. Wodehouse.
The book I'm recommending to a friend is anything by Byron Katie.
My favourite film adaptation of a book is Ghost World.
The last literary event I attended was The Edinburgh International Literary Festival in 2019.
One dead author I'd like to have met is Anton Chekhov.
A line or two of writing I just really love is "His soul swooned slowly as he heard the snow falling faintly through the universe and faintly falling, like the descent of their last end, upon all the living and the dead." – the last line of The Dead by James Joyce.
The books on my bed side table right now are a book of sudoku puzzles, a Byron Katie book, What Matters Most by James Hollis and Feel the Fear and Do it Anyway (I don't read fiction in bed – it keeps me awake!).
Welcoming local and international writers and thinkers to the New Zealand Festival of the Arts for 'Writers Week' has been a highlight of the Festival programme for more than 30 years. In 2020 we're doing it a bit differently. Instead of a week-long intense experience, writers' events will now run across the full three weeks of the Festival, with a focus on weekend events, complementing the new curatorial model of the Festival. The full writers line-up was announced at Unity Books last Friday, where ARTicle caught up with Verb Director and writers programme manager Claire Mabey to find out what we can expect from the new-look programme.