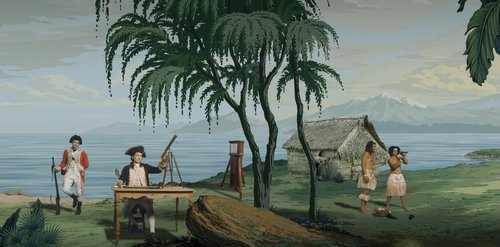 in Pursuit of Venus [infected]
Very visual; not NZSL interpreted.
NZSL interpreted artist talk with Lisa Reihana on Saturday 26 February 2pm at Te Marae, Te Papa.
When: Friday 15 October 2021 – Sunday 27 March 2022
Where: Toi Art, Te Papa
Tickets: Free
in Pursuit of Venus [infected] is Lisa Reihana's retort to the French scenic wallpaper, Les Sauvages de la Mer Pacifique produced by Joseph Dufour in 1804. Dufour's original wallpaper reflected a widespread fascination with the Pacific voyages undertaken by Captain Cook, de Bougainville and de la Perouse. 200 years later in Aotearoa, Reihana employs 21st century digital technologies to bring the scenic wallpaper to life and challenge its Eurocentric narrative.
---
He mea ruku tēnei whakaaturanga ki ngā hītoria, i te tirohanga o ngā iwi taketake, kīhei i kitea ki ngā hītoria ā te Pākehā. Ko te mutunga iho, he whakaaturanga whakahihiko i te hinengaro. He kaupapa kore utu tēnei, me haere.
Bookings are not required.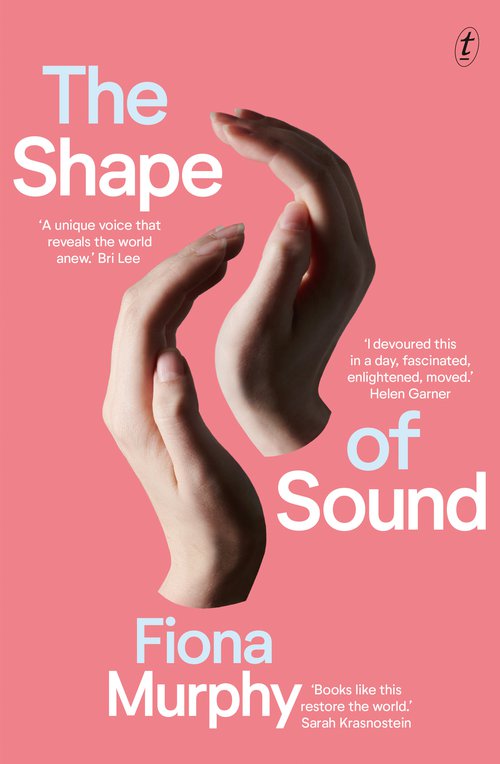 Fiona Murphy: The Shape of Sound
NZSL interpreted.
When: Saturday 5 March, 1pm
Where: Hannah Playhouse
Tickets: $19
Duration: 1hr
Poet and essayist Fiona Murphy kept her deafness a secret for over 25 years for fear of jeopardising her career. In her acclaimed memoir, The Shape of Sound, Murphy reveals her observations of how politics, economics and societal expectations impact on deafness and disability experiences. It is also a memoir that celebrates Deaf culture and has been described as a game changer in the way that it enlightens readers on the gifts that are possible in a world without sound. With writer and accessibility activist Robyn Hunt.
---
I hunaia e Fiona Murphy tōna turi, neke atu i te 25 tau ia e pērā ana, kāore tētehi I mōhio he taringa turo ōna, ā I whai pānga kino tēnei ki a ia ki tana wāhi mahi. Ka kōrero te kaiwhairo kupu nei mō ōna wheako.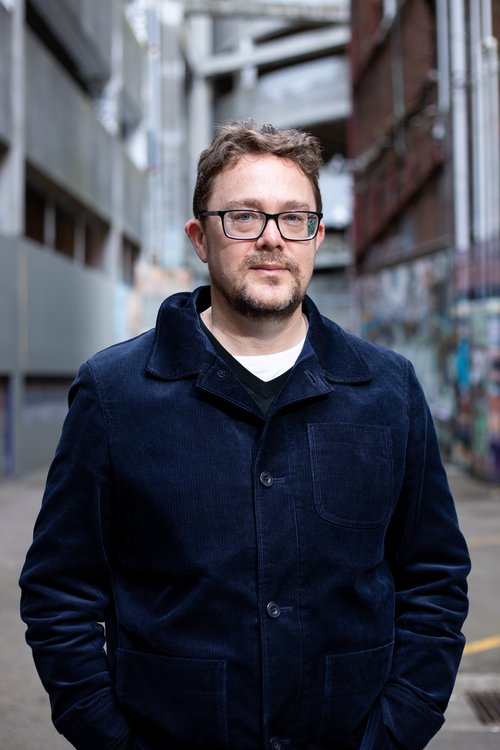 Life on Mars: The Australian Edition
NZSL interpreted.
When: Sunday 6 March, 1pm
Where: Hannah Playhouse
Tickets: $19
Duration: 1hr
In the first of a two-part series exploring the hypothetical scenario of humans having to depart Earth for a colony on Mars, Danyl Mclauchlan asks Australian writers Kaya Wilson, Fiona Murphy and Omar Sakr how they would set up life on the red planet. What possibilities arise? What would our guests leave behind on Earth? What would transform? What five foods would they try to cultivate? And perhaps most importantly, what items of art would they bring, or leave behind?
---
Ka pēwhea rā tō whakahaere I tētehi ao hou ki runga o Rangawhenua? Koina te pātai, otirā koina te kaupapa kōrero. Ko te tino pātai pea ko tēnei, he aha tētehi mea ka kawea e koe, oti ia, he aha te mea ka whakarerea. Kaupapa whakahihiko I nga whakaaro.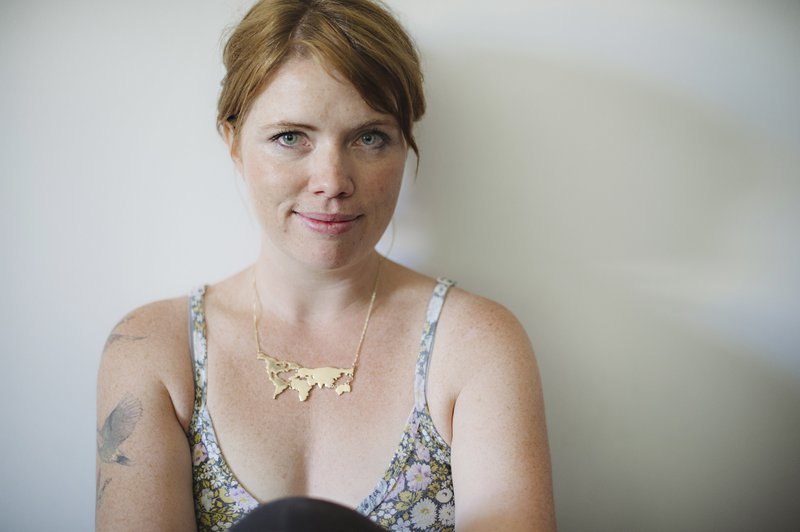 The Big Love In
NZSL interpretation.
When: Tuesday 8 March, 6pm
Where: TSB Arena
Tickets: $20 ($43 for those with hearing)
Writer, broadcaster and feminist Clementine Ford hosts, with our own Emily Writes, an outrageously rich line-up of speakers to talk about that profoundly complex, terrifying, transformative state that is love. Join us to celebrate all of the chambers of the heart. Special guests include Dr Siouxsie Wiles MNZM, with more to be announced.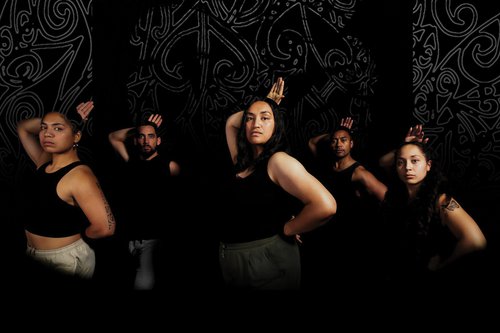 Neke
NZSL interpreted.
When: Wednesday 9 March, 6.30pm
Where: Lower Hutt Little Theatre
Tickets: Choose Your Price - find out more
Duration: 1hr 20mins
Neke is an outstanding performance that leaves you with a full and happy heart. It challenges you to voyage, perhaps discover your kaitiaki (spiritual guide) or ask what mana motuhake (self-determination) means to you? Through physical theatre Neke weaves together the diverse representations of Māori society expressed with movement, waiata, characters, and hard out crack ups.
---
Nau mai ki te ao kanikani o Neke. He whakaaturanga toi whakaari e tirotiro ana ki ngā huarahi maha o tēnā Māori, me ngā ara rerekē me whai e tātou e ekea ai te taumata i wawatia ai.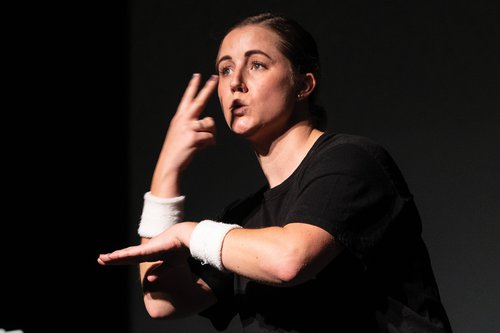 A Movement of Story | Pūrākau Reo Rotarota
Presented in NZSL. Interpreted for hearing audiences.
When: Thursday 10 March, 7pm
Where: Circa Theatre
Tickets: $19
Duration: 1hr
Join us for an extraordinary evening of true stories told in New Zealand Sign Language in a dynamic evening that celebrates our third official language. With live interpretation for hearing audience members and audio description available. Featuring Joanne Klaver, Whiti Ronaki, Sonia Pivac, Nirvana Graham and Oliver Ferguson. Curated and hosted by Jared Flitcroft.
---
Toko-ono ngā kaiwhakaari ka tukuna e rātou ētehi kōrero pūrakau pono I roto tonu I te reo-rota o Aotearoa Nui Tireni. He whakapāhotanga anō hoki mō te hunga e rongo ana ngā taringa.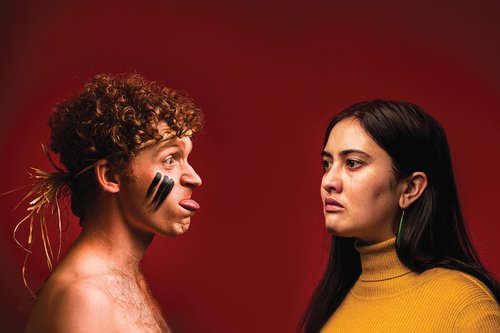 The Haka Party Incident
NZSL interpreted performance.
When: Saturday 19 March, 7.30pm
Where: Opera House
Tickets: $20
Duration: 2hrs 5mins
The Haka Party Incident resurrects the eventful day in 1979 when a group of University of Auckland engineering students rehearsing their annual tradition of a mock haka were challenged by the activist group, He Taua. To create this production, award-winning filmmaker and theatre director Katie Wolfe recorded the recollections of many of the key figures involved in the incident.The result is a riveting theatre-documentary where live drama and kapa haka combine to powerful effect.
---
I ngā rā ō mua, i te Whare Wānanga o Tāmaki, i ia tau ka tū tētehi whakangahau. Ko te whakangahau nei, he haka, heoi anō, he takahi mana kē te mahi o tēnei haka, he mahi kaikiri. I te tau 1979 ka werongia tērā hunga hakakaikiri, e te rōpū o 'He Taua'. Koinei te kaupapa o tēnei whakaaturanga, he tōwaitanga o aua hītoria.
New Histories
Very visual; not NZSL interpreted
When: From Friday 22 October 2021
Where: Toi Art, Te Papa
Tickets: Free
In New Histories, Lisa Reihana and William Dunning refract and revise New Zealand history. Artworks that explore power dynamics between Māori and settler cultures and provide alternate settings for exchange, are brought together. New Histories is an exhibition of moving image, drawing and sculpture from two contemporary artists that reimagines our histories and questions our readings of our past.
---
He whakaaturanga toi ataata tēnei nā ngā tohunga nei nā Lisa Reihana rāua ko William Dunning. Hei tā Reihana rāua ko Dunning, he whakatātare i ngā hītoria, otirā i te āhuatanga ki te mana o te tangata whenua me ngā tāngata whai (settlers).
Bookings are not required.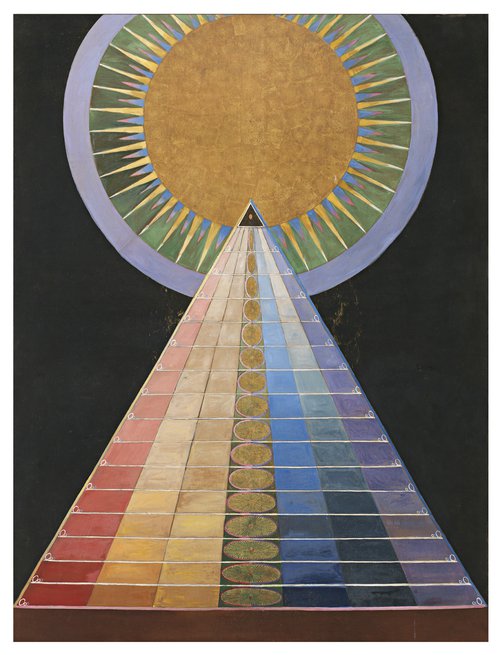 Hilma af Klint: The Secret Paintings
Very visual; not NZSL interpreted
When: Saturday 4 December 2021 - Sunday 27 March 2022
Where: City Gallery Wellington
Tickets: $16.50 (Concession)
Discover the secret paintings of Swedish artist and mystic Hilma af Klint whose body of work changed the course of art history but remained hidden from view for decades. Unprecedented in her time, af Klint's paintings have captivated audiences with their monumental scale, radiant colour combinations, enigmatic symbols and other-worldly shapes. Af Klint instructed that her paintings be kept secret until 20 years after her death – convinced that the world was not yet ready to see her art. That time has come.
Bookings will be available soon.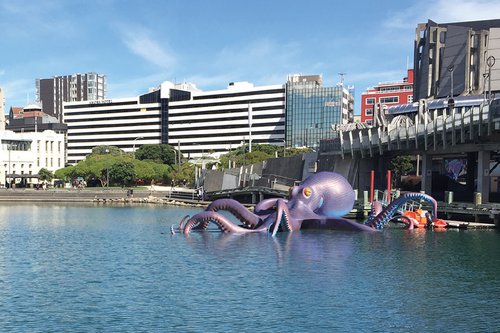 Kura Moana
Very visual; not NZSL interpreted
When: Friday 25 February – Sunday 20 March 2022
Where: Wellington Waterfront
Tickets: Free
Experience this gift to Wellington as you wander the waterfront and discover local stories animated in new ways.
"Kura Moana focuses on Te Moananui a-Kiwa, the great ocean, and its role as connector between Aotearoa and across all the Pacific nations. I have created a series of installations that invite families and communities to discover iconic locations on the Wellington waterfront in new ways, to think about some of the local histories and stories that relate to this place. It's about travellers, those who dared to traverse the Pacific, people who seek something new, another life."
— Lisa Reihana, Artist in Focus
---
Ko Kura Moana tēnei, he whakaaturanga toi e pā ana ki Te Moana-nui-a-Kiwa, nā Lisa Reihana o Te Tai Tokerau. He whakaaturanga toi ataata, toi whakaari anō hoki, he auaha, he ahurei, he rerekē, otirā he kounga, he ātaahua.
Bookings are not required.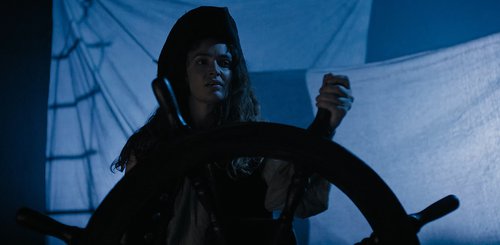 Nomads of the Sea
Very visual; not NZSL interpreted
When: Sunday 27 February – Sunday 3 July 2022
Where: Pātaka Art + Museum, Porirua
Tickets: Free
Te Wai Ngunguru - Nomads of the Sea is an immersive 3D installation. Lisa Reihana weaves historical fact with speculative fiction to explore social tensions in 1800s New Zealand. Te Wai Ngunguru explores the lust for muskets, the cultural circumstances where women could find agency at this time, and the contrast between European law and Māori morality.
---
He whakaaturanga toi ataata tēnei e kīa nei, Ko Nomads of the Sea, nā Lisa Reihana. He raweketanga hītori tēnei, e kitea ai ētehi o ngā āhuatanga o te mana o te wahine i roto i tō tātou hītoria.
Bookings are not required.